Franciacorta and Trento: A Tale of Two Cities
Richard Baudains
Regional Spotlight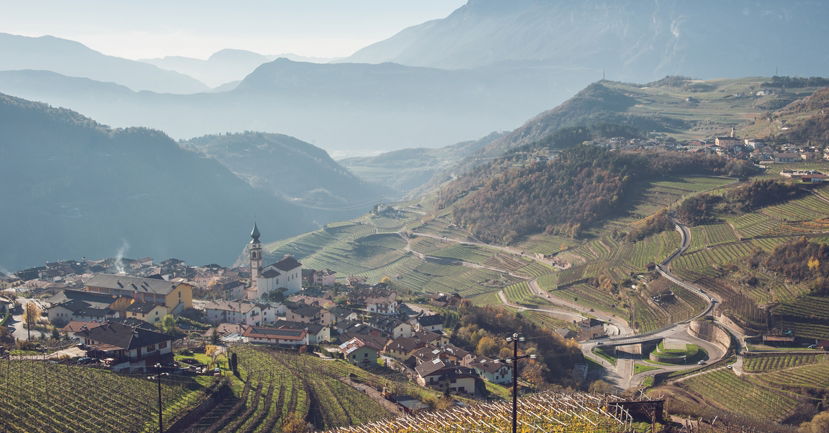 The story goes that a couple of years ago, at a high society charity event in Milan a noted British rock star was served a sparkling wine that impressed him so much that he asked to be introduced to its producer who happened to be present at the event, and to whom he is reported to have said "This is the greatest Prosecco I've ever tasted". The wine was in fact a metodo classico riserva made by one of Franciacorta's top producers. The anecdote may be apocryphal, but it could easily be true. The big wide world (and not only – the misconception is also becoming common in Italy) has started to perceive anything Italian with bubbles as Prosecco, without distinction of origin or refermentation method.
Italian metodo classico wines have never found it easy to gain the recognition they deserve outside a fairly restricted group of Italian specialists, and even amongst these, interest tends to focus on the country's reds rather than on niche productions of sparkling wines. Italian metodo classico has always been overshadowed by the prestigious "original and best" image of Champagne and nowadays, as the rock star story testifies, it risks being subsumed under the rampant Prosecco brand.
There are signs however that the outside world is waking up to the quality and distinctive identities of top metodo classico wines. At the 2019 edition of the Champagne and Sparkling Wine World Championships, Italian metodo classico picked up over 50 gold medals and an Italian house was declared Sparkling Wine Producer of the Year. The two denominations which dominated the Italian field in the awards list were, not surprisingly, Trento and Franciacorta. Bottle refermented wines are made across the length and breadth of Italy (and sometimes in unlikely places) but these two regions are the specialists. Comparison of the two denominations is intriguing because, besides the obvious points of contact in the method of bottle refermentation and the classic chardonnay-pinot noir cepage, they are dissimilar in almost everything except their excellence; the history, the scale of production, the structure of the industry, and then the soils and the climate and the bottom line – the distinctive character of the wines.
In both regions the chronicles of the respective sparkling wine industries open with a date and a name. Giulio Ferrari was a polyglot nurseryman with studies in viticulture, oenology and bio-chemistry at the most prestigious institutes of the time in Italy, France and Germany. From his photographs he was a robust, slightly imposing figure and by all accounts a hard-headed business man. He had a passion for his vines and a single-minded conviction that the chardonnay grape – which he had introduced into the region – would find a perfect habitat in the Trentino to produce a great champagne-method sparkling wine. And this is what he proceeded to do, releasing his first bottles of "G. Ferrari Champagne Maximum Sec" to almost immediate international award-winning acclaim in 1902.
At Franciacorta the significant event took place almost 60 years later. The owner of an historic estate in the countryside east of Brescia had called a young, recently graduated oenologist to see if he could resolve a technical problem with a production of pinot bianco. The oenologist, Franco Ziliani, was struck by the idea that the white wine he was working with would make an ideal base for a champagne-method sparkling wine and he proposed this to the owner, Guido Berlucchi. They agreed to give it a go. After a certain amount of trial and error, the first vintage of Guido Berlucchi's "Pinot di Franciacorta Méthode Champagnoise" came out in 1961.
What is interesting is that despite Ferrari's enormous and continuing success, for more than half a century no other major, specialist productions grew up alongside that of the Trento house. Ferrari was Trento and Trento was Ferrari. It was not until the 1970s that a limited number of other producers began to appear and it was only with the creation of the DOC Trento of 1993 (the first in Italy dedicated exclusively to bottle refermented wines) that the Trentino began to build a consolidated identity as a sparkling wine region with a wider production base.
At Franciacorta on the other hand, development has been meteoric. Prior to Franciacorta's first all-purpose DOC in 1967, only ten of the 100 or so of today's Consorzio members were making wine of any kind. In the thirty years that followed it has been calculated that the surface area under vine increased 30 times. Cà del Bosco, emblematic example of the Franciacorta-style start up was founded in 1968, inspiring a wave of new high profile estates (Monte Rossa in 1972, Mosnel in 1976, Bellavista in1977) and there was another surge following the passing of the Franciacorta DOCG in 1995. Roughly one-third of all the specialist houses operating today were founded after that date.
Franciacorta DOCG dwarfs Trento in terms of production, with its 2902 ha under vine nearly three times that of Trento. While sparkling wine is the raison d'être of the former, in the Trentino it is a niche – albeit an increasingly important one – in the context of a regional production traditionally based on dry white wines and to a certain extent its native reds. Trento DOC's 9 million bottles a year (2017 data) represent less than 10% of the region's total vinous output. In the Trentino over 85% of all wine is handled by cooperatives which offer wide and varied ranges, as do the majority of independent grower-producers. The number of estates which produce exclusively Trento DOC is extremely limited. And Ferrari continue to dominate, accounting for roughly one-fifth of the total annual production of sparkling wine. The Franciacorta Consorzio by contrast counts 115 grower-producers among its members and around two dozen of these battle it out for the top honors in the national guides every year. Less than half that number of Trento DOC producers figure in Italian guides.
Then there is the question of terroir, and here the differences are stark. Trento DOC is sourced principally from vineyards on either side of the northern part of the Adige valley along a stretch of roughly 50 km between Rovereto and the regional border with the Alto Adige at Salorno. There is also increasing interest in the lateral Val di Cembra and a certain amount of production in the warmer Val dei Laghi to the north of Lake Garda. Soils are calcareous and substantially homogeneous along the Adige and porphyric in the Val di Cembra. Vineyards are planted mainly between 400 and 600 m (1,300-2,000 ft), although they may reach up to 800 m (2,600 ft) and even 1,000 (3,280 ft) in the Val di Cembra.
Franciacorta comes from a natural, sub-alpine amphitheater which looks towards the city of Brescia to the east, the plain of the Po to the south, with Lake Iseo and high mountains at its back. The area is characterized by low morainic hills of varying geological periods and compositions, making its soils far more varied than those of the Trentino. The greatest concentration of estates is in the south-west corner of the DOCG zone in the communes of Erbusco and Cazzago, but production is distributed in pockets across the whole of the area and location plays an important role in the character of the wines. Broadly speaking older and deeper glacial moraine tends to favor wines with body and complex fruit, but less immediate aroma, while in earlier ripening areas with shallower soils wines are fresher and more floral.
Possibly more than soils, what determines the distinctive features of the two denominations however is the impact of climate on the predominant variety in both regions, chardonnay. The alpine climate of the Trentino is consistently cooler in the summer months than that of the temperate Mediterranean Franciacorta, with night/day temperature excursions which make for slower ripening and the accumulation of varietal aromas. The Winkler index (the sum of degree-days in the ripening period) in Franciacorta has been calculated at 2.300 while the Trentino hovers around 1.200-1.300 (Rheims averages around 950). In recent years it has become common for picking to begin in Franciacorta in mid-August. The Trentino typically starts two to three weeks later.
The upshot of this is that Trentino chardonnay maintains acidity with lower sugar but more complete phenolic ripeness, while in Franciacorta producers may face the risk in hot vintages of having to pick less ripe grape in order to keep acidity, but have base wines with more substance and concentration. All this translates into the differences in the basic tasting profiles of the two denominations (which have been confirmed by recent analytical studies carried out at the Trentino's Fondazione Edmund Mach (Istituto Agrario di San Michele all'Adige). A top Trento Brut will have citrus and white fruit aromas with hints of white blossom and will be crisp and linear on the palate with great intensity and length. A Franciacorta of the same style and vintage will have more ripe yellow fruit and nuts on the nose and a more evolved crusty autolytic character and will be broader and more structured on the palate, with possibly a touch of herby spiciness in the finish.
The production norms devised by the Franciacorta Consorzio are amongst the most rigorous of any in the world in terms of yields (120 q/ha) and lees ageing (minimum 18 months for non-vintage, 30 months for vintage, 60 months for riserva). Trento DOC – with one imagines a nod towards the needs of the cooperatives – allows for slightly higher yields and shorter minimum ageing (15 months for non-vintage, 24 months for vintage and 36 months for riserva), but in reality top quality producers are self-regulating in these regards and apply their own more severe standards.
In terms of style, Pas Dosé is increasingly in vogue in both denominations, but in any case, residual sugar levels for Brut and Extra Brut are universally low. Pinot noir serves to add structure to the blends and as a rosé is a current market pleaser, but in both Trento and Franciacorta the dark-skinned variety is a minority presence. One of the great intuitions of the Franciacorta Consorzio and an exclusive to the denomination is the Satén category for crémant-style chardonnay-based which shows off the richness the variety is capable of. At the top of the range, producers in both denominations bottle long-aged riservas with potential for further evolution, which is the ultimate demonstration of the vocation of the two regions to produce, for all their stylistic differences, world class sparkling wines.
A (Very) Short List of Producers
TOP

Cà del Bosco (Franciacorta): The ten-year riservas Annamaria Clementi Dosaggio Zero and the Annamaria Clementini Extra Brut Rosé combine incomparable complexity and depth at the top of an impeccable range with an unmistakable house style.
Ferrari (Trento): Sparkling Wine Producer of the Year at the CSWWC, with no fewer than 15 gold medals, testimony to an extensive top-quality range headed by the non plus ultra Riserva Giulio Ferrari which exudes sheer class in its breath taking freshness and elegance.
CONSISTENTLY EXCELLENT

Barone Pizzzini (Franciacorta): Pioneer of organic viticulture in Franciacorta with an exciting and evolving range including the top line Riserva Bagnadore and, outside the DOCG, a cuvée which includes the rare local erbamat grape.

Guido Berlucchi (Franciacorta): Historic producer whose impeccable '61 range (Nature, Brut and Satén) are classics of the denomination.

Bosio (Franciacorta): Family owned grower-producer renowned for the rich, evolved style of their limited production Girolamo Bosio Riserva.

Cavalieri (Franciacorta): Another historic figure in Franciacorta with a distinctive, bone dry, essential house style of great elegance.

Letrari (Trento): Brother and sister Lucia and Paolo Letrari have created an extensive range of classic Trento DOC which has overtaken the red wines that were the historic specialty of the estate.

Maso Martis (Trento): Small scale family producer of hand-crafted wines with a special focus on pinot noir, both in their Trento DOC cuvées and in a delicate, refined rosé.

Uberti (Franciacorta): Long established producer with a high percentage of old vines famous for their opulent, evolved house style.

TO EXPLORE

Cavit-Graal (Trento): The Graal range is a project managed by the mega-cooperative Cavit. Good value entry level and increasingly convincing riserva.

Cesarini Sforza (Trento): Pioneer metodo classico house, now managed and revitalized by the LaVis cooperative.

Levi (Trento): Former supplier of grapes to Ferrari, now embarking on a solo career with a quaffable Brut and interesting Pas Dosé.

Tenuta Quadra (Franciacorta): Dynamic estate of recent foundation, creating waves with a quality range.

Corte Fusia (Franciacorta): New generation small-scale producer with vineyards on the interesting cru site of Monte Orfano, in the south of the DOCG.

Trento and Fanciacorta Compared
 
Trento
Franciacorta
Denomination
Trento DOC
Franciacorta DOCG
Date of creation
1993
1995
Main Styles
Non dosato, Extra Brut, Brut, Riserva
Non dosato, Extra Brut, Brut, Saten, Riserva
Min. lees aging
n/v: 15 months
Vintage: 24 months
Riserva: 36 months
n/v: 18 months
Satén; Rosé: 24 months
Vintage: 30 months
Riserva: 60 months
Grape varieties allowed
Chardonnay, pinot nero, pinot bianco
Chardonnay, pinot nero, pinot bianco, meunier
Surface under vine
1012 ha
2902 ha
No. bottlers
~ 50
~ 115
Annual sales
9 million bottles
18 million bottles
Topography
Mid-to-high mountain valley slopes, reaching up to 800/1.000m
Low hills and predominantly south-facing slopes up to 500 m
Soils
Predominantly stony calcareous
Predominantly glacial-alluvial moraine, but with significant diversity
Climate features
Alpine, with notable day/night temperature excursions
Temperate mediterranean
Strengths
Fresh aromas, crisp acidity, long "vertical" palates
Complex mature aromas, depth on the palate with broad creamy textures
Achilles heel
 Some entry-level wines can be over-simple

If grapes do not reach complete ripeness, the wines can have a bitter, slightly vegetal finish
Want to receive a free Italian Wine Scholar™ sample chapter?
Complete the form below for more information and receive a FREE sample chapter.