Unearthing Tradition in Georgia
Jacopo Mazzeo
Regional Spotlight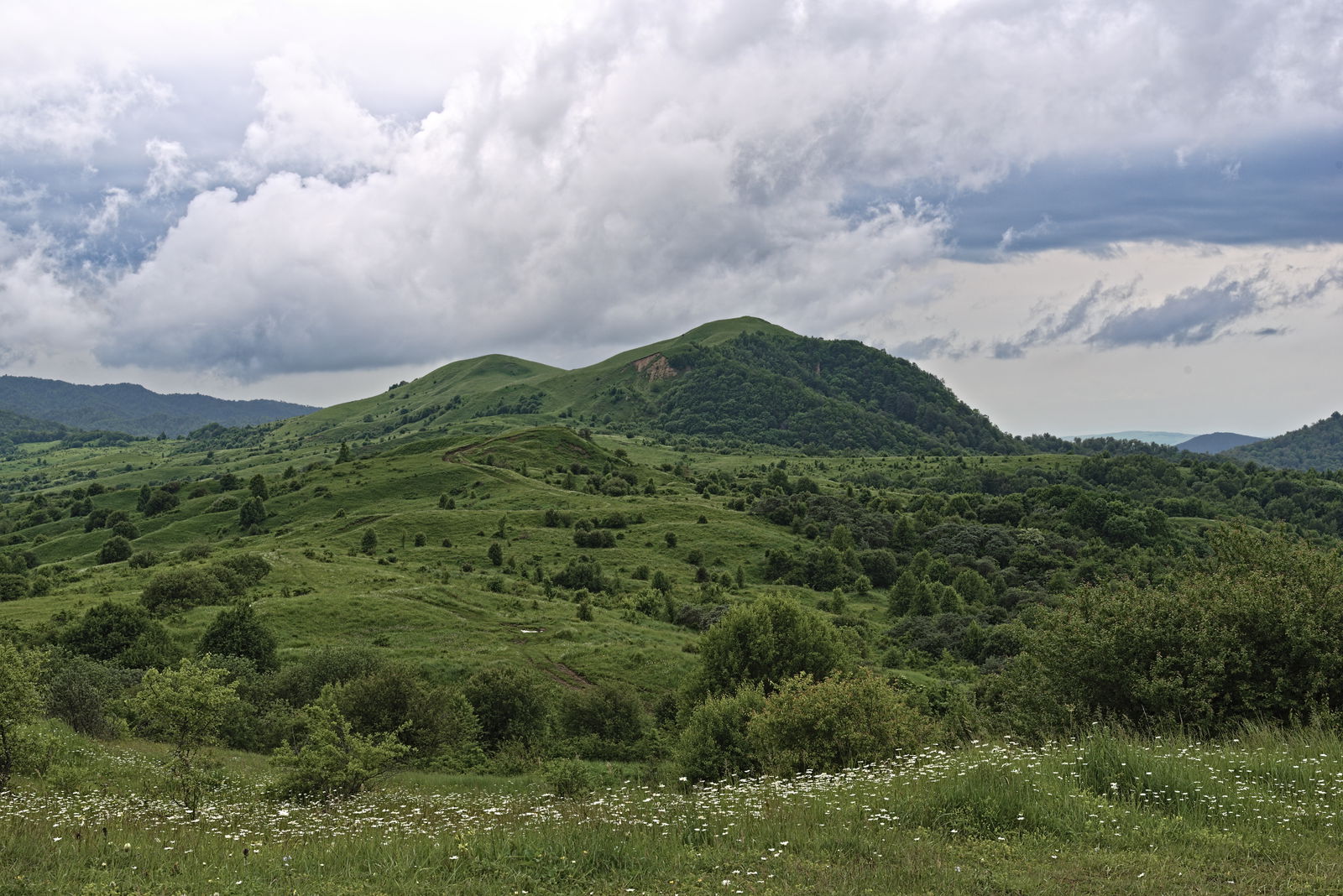 Zaza Kbilashvili's workshop lies in the village of Vardisubani, a short distance west of Telavi, the cultural centre of Kakheti wine country in Eastern Georgia. From the outside, Zaza's home might seem unassuming, but once through the gate, its rustic yet elegant and bucolic appeal unfolds. A narrow path leads to Zaza's workshop in the rear of the main building, surrounded by a lush vibrant garden, blooming flower pots, and an overall warm and inviting atmosphere.
To one side, a spacious veranda offers ample seating for Zaza's – very frequent – incoming visitors. On the opposite side, a dedicated space serves as a kiln. Further into the garden lay some of Zaza's tools and plenty of his skillfully crafted qvevris, Georgia's own egg-shaped terracotta winemaking vessel.
Zaza carries on a qvevri-making heritage that spans multiple generations. "I am a fourth generation qvevri maker. I tried to find out more information about my ancestors but could not find anything earlier than my great-grandfather. But [I'm sure] that he learned qvevri making from his father or grandfather just like I did," he says with pride and a touch of nostalgia.
For Zaza, making qvevri is not just a profession, it is a way of life deeply ingrained within his being. The craft runs deep, intertwining his identity, love, and dedication into each vessel he creates. "Making Qvevri is everything for us, this job is part of ourselves and we cannot live without it."
His family was one of only three remaining private qvevri businesses that, once Georgia re-gained its independence in 1991, had survived the seven decades of Russian occupation. "During the Soviet times nothing was privatized, and the same was true for qvevri-making, it was forbidden," he explains. "We had large qvevri factories where all qvevri makers worked. If somebody was found making them at home, his qvevris would get destroyed by the people carrying out the checks. Some artisan families did not accept this and just kept making qvevris anyway. Mine was one of them."
Despite his unwavering passion for his craft, Zaza candidly admits that initially, he had not envisioned following in his father's footsteps as a qvevri maker, particularly considering the state of decline that the industry had fallen into under the Soviet dominion. "I can't remember the first time I touched some clay. As a child, I would play with it while my father was busy making qvevris. I was only eight when I made my first, 10-litre qvevri. But before I was 21 I hadn't made a proper decision about becoming a qvevri maker myself," he says.
After graduating in law from the University of Tbilisi, Zaza's innate connection to his family's craft and a deep sense of responsibility compelled him to embrace his true calling, eventually drawing him back to work with his father.

The very essence of the earth
Drawing upon the knowledge passed down through generations, Zaza fashions qvevris from the dust of the ground. He sources clay from the nearby forest and then cleans it by removing sticks and stones. The clay is then finely milled and transformed into a pliable medium, ready for the qvevri's gradual and intricate construction. Zaza overlaps layers of clay, each requiring a few days to dry before the next application, meaning that the entire process can span several months.

"The qvevri has to be sculptured as an egg, slowly, step by step," he says. "I don't use any measuring instruments, each qvevri is unique and they might differ in size from each other."
Once ready, the raw qvevri requires several people to be carried to the kiln, a small room surrounded by three solid brick walls. The qvevris are placed inside then the kiln's fourth side is bricked up, leaving small openings for ventilation and to access the fire. The kiln is lit and the qvevris are left to cook for about a week.

As he talks me through the making process, he never ceases to wear a graceful and understated smile. Business is thriving and with several months needed to craft every single vessel, his waiting list gets longer by the day. Indeed, while qvevri wine represents just about 10% of total Georgian wine production, winemakers are increasingly keen to champion their oenological traditions and clay vessels are gaining international popularity, too.
Interest in this historical Georgian winemaking vessel began to grow in the late 1990s, notably with Joško Gravner, who pioneered the practice in the northeastern Italian region of Collio. Yet Zaza argues that qvevris began gaining real worldwide attention and appreciation in 2013, when the practice was officially inscribed on UNESCO's Representative List of the Intangible Cultural Heritage of Humanity.
"The collapse of the Soviet Union changed everything here, but [initially] things were very tough," Zaza recalls. "Then, step by step, life got better and Qvevri gained in popularity from 2013 onwards, when it became a UNESCO intangible cultural heritage. It took the National Wine Agency, National Tourism Administration, and the National Museum a long time and a lot of work to achieve this recognition."
On the qvevri's UNESCO webpage, a short documentary film directed by renowned Georgian filmmaker Merab Kokochashvili features Zaza and his father at work. A testament to the Kublashvili family's workshop instrumental role in the rebirth of qvevri-making following the collapse of the Soviet Union.
A deep spiritual value
Beyond the rising popularity of qvevri winemaking, a profound and personal drive has been motivating Zaza to devote his entire life to carrying on his family's multigenerational craft. For him, as for all Georgians, the qvevri represents more than a mere vessel. It is a symbol of national pride and an embodiment of deep spiritual and cultural significance.
Qvevri wine is still used to mark all the most important moments of human existence. The Marani – Georgia's traditional qvevri cellar – has historically served as a substitute for a church, with its wooden wine press symbolizing an altar. And archaeological evidence suggests they were once used as tombs, confirming their high symbolic charge.
"Wine has been for us Georgian a holy beverage since pre-Christian times. This in turn made the qvevri itself a holy vessel," Zaza explains. "Today, we still uphold the culture of the Zedashe, a type of qvevri specifically made to transport wine to the church."
The qvevri possesses such an immense spiritual value that it is intricately intertwined with the miracle of life: "The most exciting moment is when you take the facade off and see the finished kvevri inside," says Zaza, pointing at the kiln's front wall. "To me, this moment is like the birth of a baby. The kiln is like a pregnant woman who's about to give birth."
The profound cultural significance of the qvevri within Georgian culture has been the driving force behind Zaza's dedication to championing his craftsmanship, which he is determined to keep alive by passing it on to the younger generations. "We must preserve our qvevri-making tradition," he says, his tone carrying a sense of urgency. "If we do not want the qvevri to disappear, we can't lose the tradition of qvevri making."
Of his two sons, one is already a trained qvevri maker. "My father wasn't afraid of anybody and anything. Stubbornness and love for qvevri making gave him the courage to keep the art of qvevri making alive," says Zaza with pride. "I do not know if my sons will eventually take different professional paths but at least I'm happy that they possess a knowledge we have managed to retain across countless generations."
READY TO LEARN MORE ABOUT GEORGIA? ENROLL IN OUR
FREE

ONLINE COURSE: WINES OF GEORGIA, LIVE NOVEMBER ON 2 & 16!