Elizabeth Gabay MW on Provence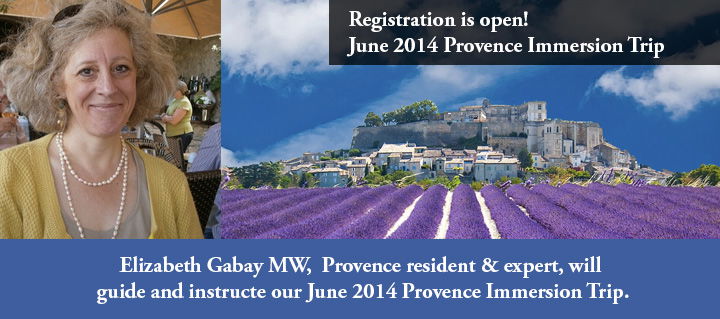 What can you tell us about Provence as you see it?

One thing I have learned over the past 30 years is that 'Provence' has a fascinating history and is definitely not one homogeneous region. Western Provence is influenced by France, the Papacy, the Rhône and the big port of Marseille. Central Provence has, for many years, been a poor region. Much of it is still unknown with a distinct and busy coastal area and wild, rocky hills and mountains further north. Eastern Provence - my area - is more Italian/Savoy influenced. Until 1860 Turin was our capital. Ninety percent of the population lives in the coastal strip. The few remaining vineyards here (Bellet) struggle to survive in the face of urbanization. In fact, the entire Provençal wine region is punished by the high costs (land, labor) of a rich tourist market. The pressure this creates for the vigneron is extreme.


How is Provence developing?

Creating sub-appellations such as Côtes de Provence - Ste Victoire, Côtes de Provence - La Londe, Côtes de Provence Fréjus… and new this year Côtes de Provence - Pierrefeu (all of which we will be visiting) is a laudable move to highlight regional variations. Producers are learning how to emphasize what characteristics shine for their small area. Hopefully this will be something we can observe and discover on the trip - definitely something new - not obvious in any textbooks.


The study tour will be looking at Western Provence, What do you envision as highlights?

Provence is more than the sum of its parts and must be experienced as this greater whole. From purple lavender fields and silver olive groves, to white cliffs, green pine trees and red rocks that tumble into a blue sea, the region is awash in color and light. Couple this with a glass of rosé and the painter's palette is complete.

Almost.

There is more to Provence than rosé in summer. Winters can be cold and a rich beef daube (stew) flavored with olives, oranges and herbs accompanying pasta or polenta is delicious with a local red wine. Provençal sweet wines, sadly a style now rarely seen outside the region, make for a wonderful end to any meal when served with dried fruit, nuts and little biscuits. White wines have seen a dramatic improvement over the past 20 years. They are accented by ripe fruit plus a hint of herbs and fennel making them wonderful partners to fish.

Big investment has helped give confidence to local winemakers. Sacha Lichine crafts the most expensive rosé in the world while Brad Pitt and Angelina Jolie's rosé has entered into the league table of the top 100. All of this has given recognition to a region long loved for its quiet simplicity, good food, and natural beauty. In a word, Provence is simply an "experience" from start to finish. I look forward to sharing it with you.
Elizabeth Gabay MW, Provence resident & expert, will guide and instruct our June 2014 Provence Immersion Trip.
Registration is open. Learn more.