INTERVIEW: Ettore Donadeo from Caplan Wine Academy (Tokyo, Japan)
Pierre Freyermuth
Latest News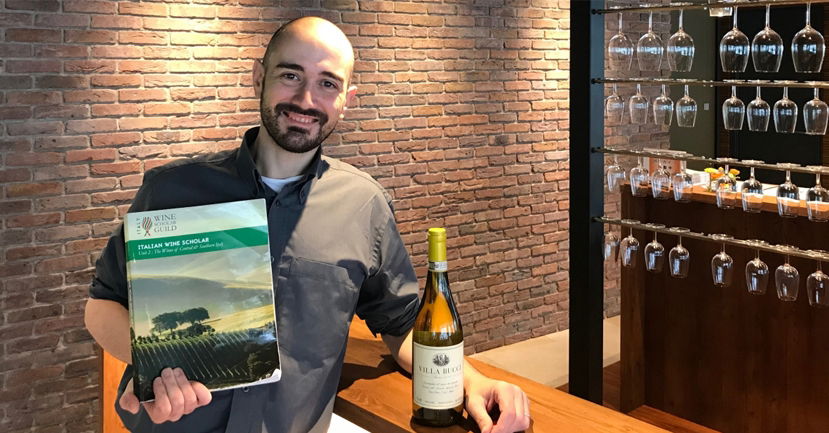 Meet Ettore Donadeo, instructor at Caplan Wine Academy in Tokyo, first wine school to launch the Italian Wine Scholar in Japan!
Their first IWS session is scheduled to begin April 16th, more information and registration HERE.
Ettore, could you give us a bit of background on your personal and/or professional history in wine and how you got to Japan?
I arrived in Japan in 2008 after having graduated in Japanese language in Venice. First I worked as a software programmer, learning everything from scratch, but then I discovered my "true calling". In 2012 I went for some months in New Zealand where I got WSET Level 2 and Level 3, then back to Japan I started working in the industry. In 2017 I got the WSET Diploma and started working as a wine teacher at Caplan Wine Academy in Tokyo. Finally in 2019 I passed the IWS exam with High-est Honors!
You score an almost perfect 99% score on the IWS exam. Did you find the program easy? Do you have any tips on how to prepare for and excel on the exam like you have?
In a sense 99% is THE perfect score: it means that for how good you can be, there is always room for improvement.
Well I have a pretty solid background on Italian wine, I really studied it a lot and drank many bottles in the last ten years, so for me it has been challenging but not overwhelming. When it comes to study techniques, each one of us has his or her own systems, but personally I like to read, taking memos in an ordered manner and refresh the concepts again and again with flashcards. Refresh-ing is crucial.
I also think that actually trying the wines you are studying and visiting the winemaking regions is very very important, as it can help you to connect what you read on the book with your own experi-ence.
Tell us more about, Caplan, the wine school you work for. What type of education experience do you provide at Caplan that you think sets you apart?
All our teachers are great and passionate and the school itself is beautiful, with a big lounge and space that you don't find easily in central Tokyo. However I think that our true point of distinction is that we have a very strong international focus: most of the staff speaks English and each semester we are adding new wine courses in English, held by both Japanese and foreigner teachers.
We are also the only school in the Country providing the WSET Diploma and the WSET Sake Level 3 courses and, since April, also the Italian Wine Scholar.
Caplan is going to be the first wine school to launch a WSG program in Japan. Why did you decide to start offering the Italian Wine Scholar Program?
There are many reasons: Japanese people love Italian wines, but they struggle to understand all the regions, grape varieties and peculiarities. Some other courses are already available on the market, but to me they all seem flawed in some way or another.
Furthermore, the Italian Wine Scholar Program complements very well the WSET courses that we offer at our school, being it Level 2, Level 3 or Diploma. Of course it is different from these, but it has a somehow familiar structure and it explores a wine Country which is extremely relevant in the international market.
Finally, teaching a proper Italian wine course is also the crowning of a 10 years old personal project, so for me it is very important.
Can you tell us about the wine education market in Japan? Are certification programs important and popular?
Yes, Japanese people like certifications. The wine education market is expanding with new courses popping out every year. The value of international education programs (as opposed to "local" ones) has started to rise especially after Japan got its first Master of Wine (Kenichi Ohashi) and the community of wine enthusiasts is getting bigger and bigger. It is kind of a "cascade effect": many people are now reaching high level certifications and some of them turn to teaching (either part time or full time) attracting others in the community.
How would Italian Wine Scholar be written in Japanese?
イタリアン・ワイン・スカラー.
Ettore, if you were a wine, which one would you be or like to be?
Good question. I would be a wine for long ageing, in fact I had to wait many years before starting to feel satisfied by myself. And I feel connected both to Italy and the World, so maybe, more than a traditional DOC/G, I would be something like a Super Tuscan, or a Pollenza, a premium red wine from Marche (the region where I was born) made from international varieties.
{chronoforms6}call-to-action-iws{/chronoforms6}
Tagged Under