Mário Márcio Lescano Júnior
It is a program that changed my life and the view I had of the Champagne region.

Wine Enthusiast

WSET Level 3, WSG Wine Scholar: French; Italian; Spanish. WSG Master Levels: Rhone; Bourgogne; Alsace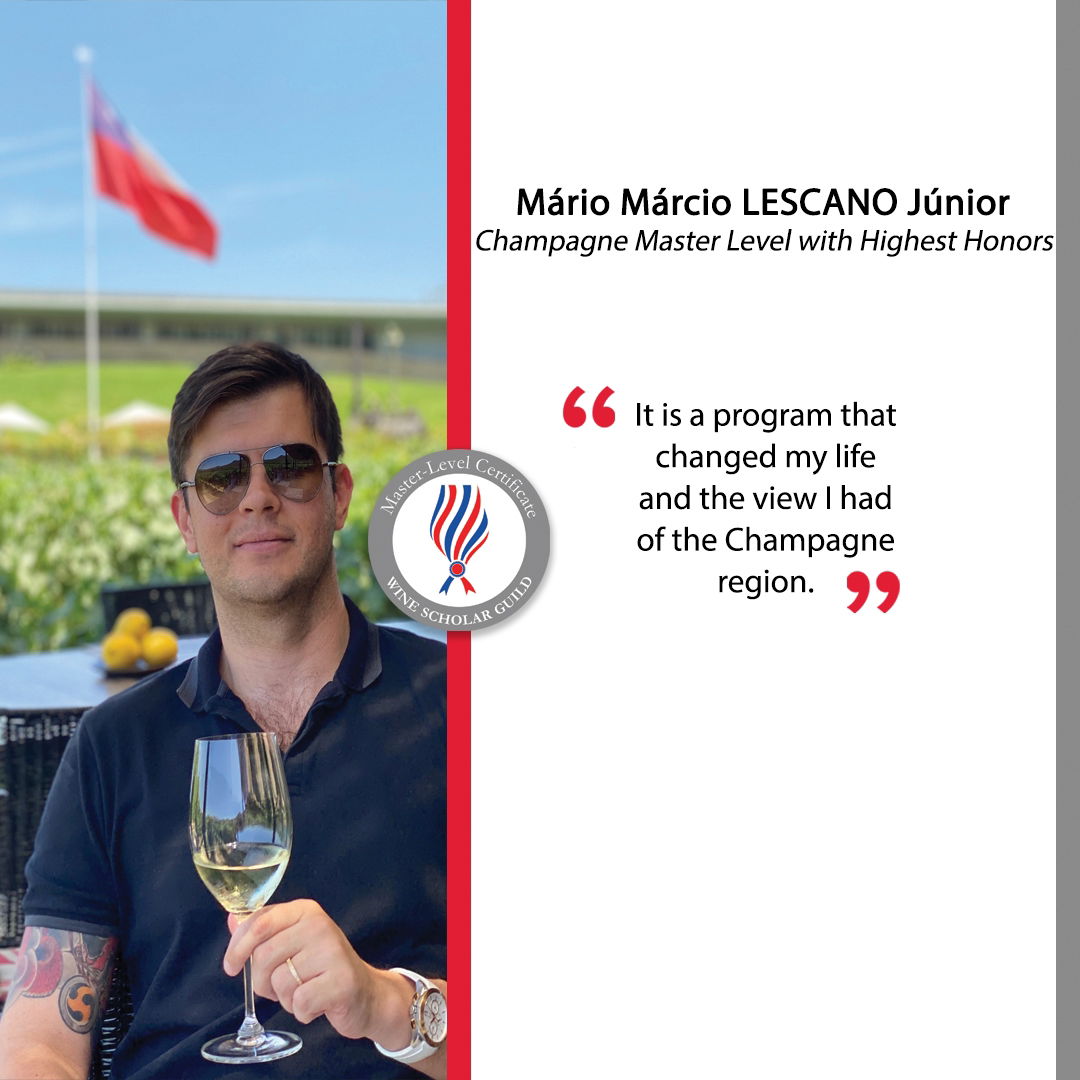 Congratulations to Mário Márcio Lescano Júnior for passing the Champagne Master Level exam with highest honors!
About Mario:
I am a wine enthusiast. I have always been passionate about wine and had a dream: to make a Professional Sommelier course. As a Major in the Brazilian Army, my dream had to wait for a while, but I was able to realize it in 2016.  What started out as a simple hobby turned into something else: through wine, I found my superpower. My power isn't in being a great oenophile, but in loving something enough to work hard at being better.  As I am quite superstitious, my aspirations now are: to successfully complete the WSET Level 4 Diploma in wines and all WSG Master-Levels.

After finishing the Professional Sommelier course given by the Brazilian Association of Sommeliers in 2017, I passed the WSET Level 3 in wines with distinction in wines in 2018. In the same year, I started my love affair with the Wine Scholar Guild.  I signed up for the French Wine Scholar program and have graduated with highest honors.  In 2019, I finished the Italian Wine Scholar program with highest honors, the Rhône Master-Level with highest honors, the Bourgogne Master-Level, and the Spanish Wine scholar program with highest honors.  Eno Cultura, the same provider that provided my French Wine Scholar course, brought the first WSET Level 4 Diploma class in wines class to South America and I got a spot.  In 2020, I passed the D1 exam, delivered my D6 assignment about Natural Wines and I am going to take the D4 exam in October. I finished the Champagne Master-Level with highest honors, the Alsace Master-Level with highest honors and at the end of the month I will take the Provence Master-Level exam.

I love all the programs offered by the Wine Scholar Guild.  Champagne Master-Level, in particular, will help me in the short term, as I am taking the WSET Diploma D4 exam next month. In the long run, it is a program that changed my life and the view I had of the Champagne region. I learned a lot! This will definitely help me in future courses that life will allow me to take.