Yi-Chiao Ting, FWS
The depth and completeness of such courses make them a solid foundation for any other training that I'm to receive in the future.

Wine Enthusiast

Spanish Wine Scholar, Italian Wine Scholar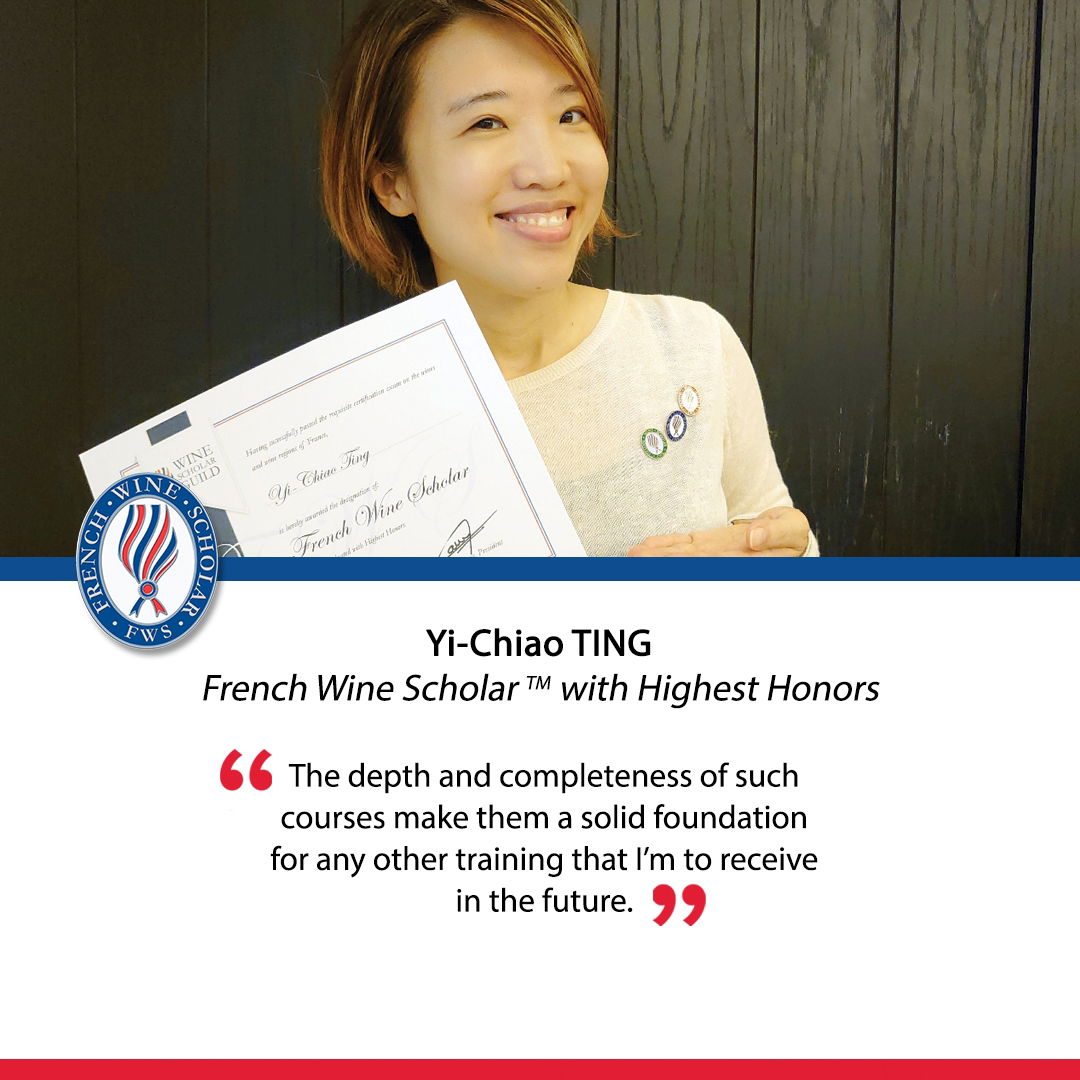 Congratulations to Yi-Chiao Ting, FWS, for passing the French Wine Scholar exam with highest honors!
About Yi-Chiao:
As someone who's with culinary family heritage like me, my palate of different types of cuisine has been trained since I was young. The marriage between gastronomy and wine often fascinates me and I can't imagine a life without gastronomy and wine paring with it. Intuitively, I, as a result, always feel more excited working on projects of alcoholic beverage (especially wine) when serving as a professional consultant for consumer insights. Getting to know the other side of the story from the brand's or manufacturer's perspective can be really interesting and attractive.

So, yes, I'm definitely a wine enthusiast, and also a consultant of consumer insights who's passionate for the story behind the operation of the wine world.

It all starts with SWS, a decision driven by the passion of wine and the curiosity of a Spanish speaker in getting to know more about Spanish wine. Then, naturally, the IWS, followed by FWS. All three together, like puzzles, complete and echo one another in giving a rather thorough picture of the wine industry in the old world - the origin, the technics, the history, the style, and more. The depth and completeness of such courses make them a solid foundation for any other training that I'm to receive in the future.

The structural trainings received through the FWS program not only deepens and widens the knowledge and understandings with regard to the world of French wine, but also further arouses my interest in knowing more and levels up the self confidence in sharing my knowledge and drinking experience with others through my channel. Moving forward, my own wine podcast is in the pipeline and now also seeking for other opportunities that can perfectly combine my love with job. Anything is possible and the sky is the limit!