Alison Scofield, SWS
I can't thank the Wine Scholar Guild enough for offering these courses, along with all the quality materials, webinars, and study tools to help set students up for success.

Wine Enthusiast

French Wine Scholar, WSET Level 2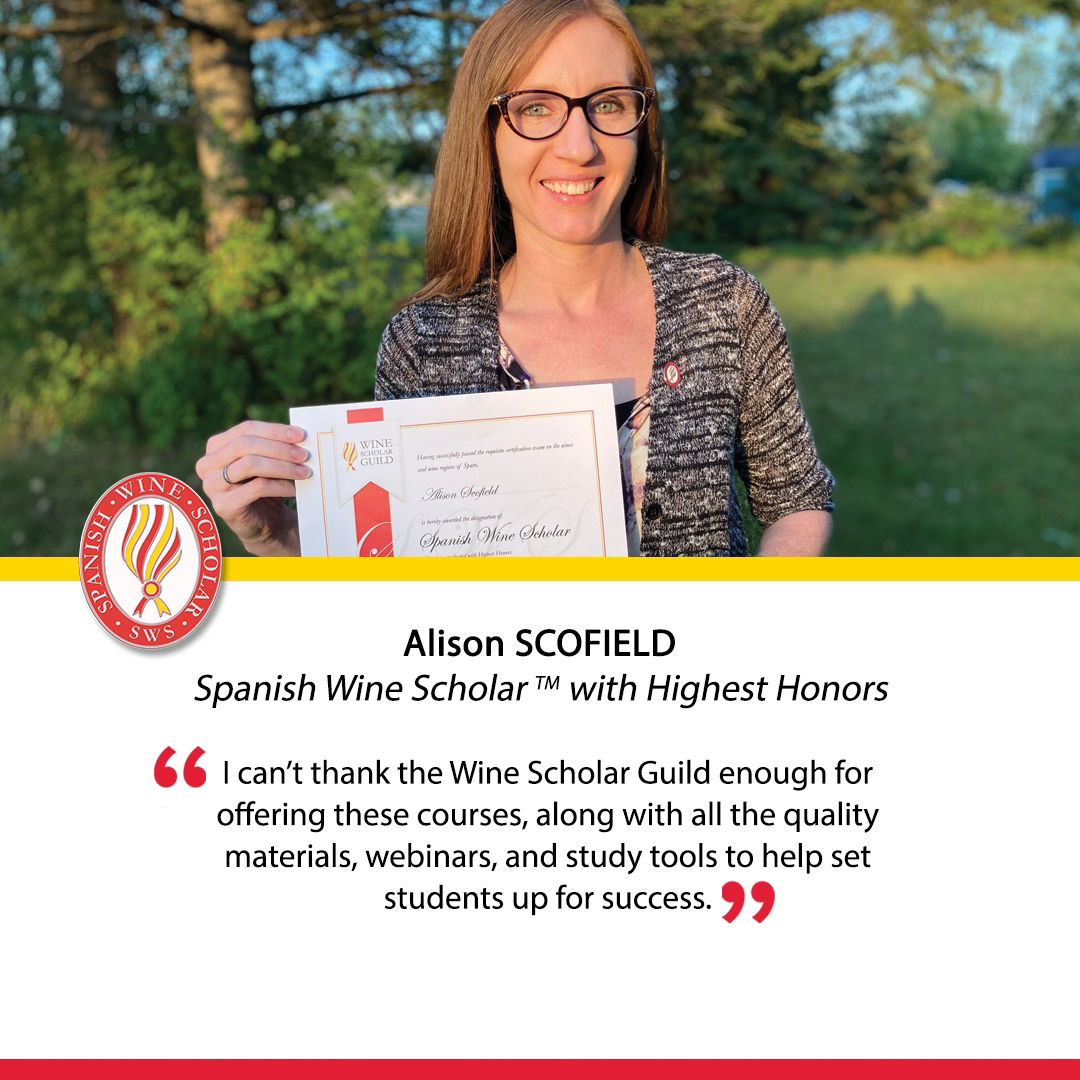 Congratulations to Alison Scofield, SWS, for passing the Spanish Wine Scholar exam with highest honors!
About Alison: 
I am a wine enthusiast loving learning about wine and all things related. I work full time outside of wine and am a wife and mother, so I really appreciate the Wine Scholar Guild online courses and the accessibility I have from anywhere. I would love to eventually teach some wine classes in my community, so I am trying to soak up as much wine knowledge as possible to really fuel my passion.

SWS is my second course through the Wine Scholar Guild, the first having been FWS. I am also WSET level 2 certified. I felt like Spain was overlooked in more of the general wine programs, even though there is so much quality and value in Spanish wine! I was very excited to learn more about Spain and Spanish wine in depth through the SWS program to really bolster this region in my wine education knowledge bank.  I am currently enrolled in IWS, starting with Section 2 first, through the Wine Scholar Guild instructor‐led online format. I know that the SWS program has given me a great base on which to build more wine knowledge through other regions in the world.

I have such a better appreciation for Spanish wines after having completed SWS! There's always more to learn, but I feel more confident in discussing, appreciating, and choosing Spanish wines after taking the SWS course. I can't thank the Wine Scholar Guild enough for offering these
courses, along with all the quality materials, webinars, and study tools to help set students up for success.