Lisa Esteban, SWS
It's given me knowledge that I take into my work every day, but it's also re-ignited the curiosity that started it all.

Brand Ambassador, Gil Family Estates

WSET Levels 2 & 3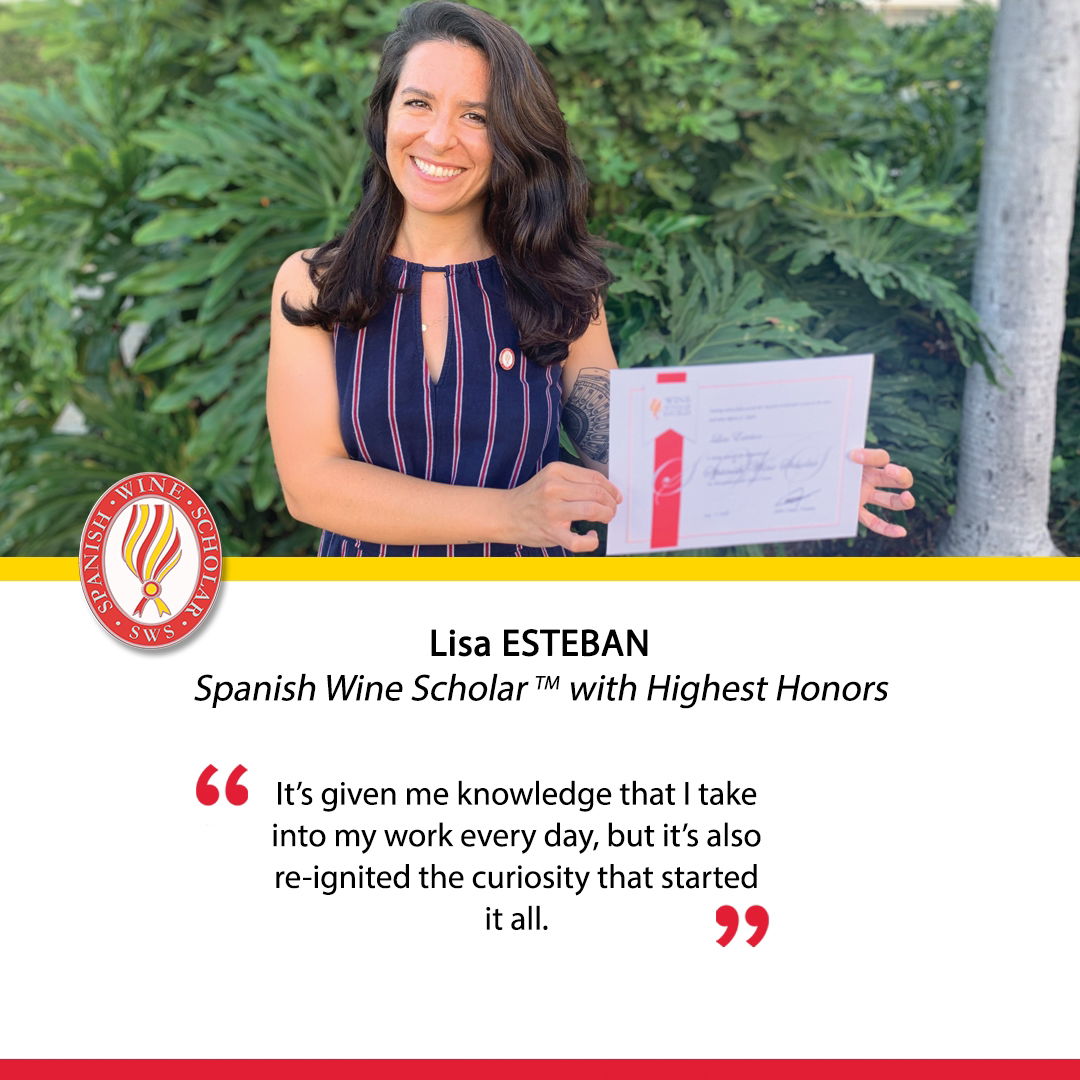 Congratulations to Lisa Esteban, SWS, for passing the Spanish Wine Scholar exam with highest honors!
About Lisa:

I have been working in the Spanish wine industry for six years now. My father is from Spain and I grew up very connected to these roots, so much so that after college I moved to Spain to study translation, and it was at the beginning of this time that I developed a curiosity about Spanish wine. The more I learned, the more I realized I wanted to dedicate my energy to sharing my love for Spain and its culture, cuisine and, of course, wine with the rest of the world. I was accepted into the Spanish Institute for Exterior Commerce (ICEX) Master's program in International Business and Trade in Madrid where I focused my energy on preparing myself for a career in promoting Spanish wine abroad. I began my career working for Bodegas Chivite in the Export department, managing North and South America and moved back to my home-town of Los Angeles. In 2017, I joined the Gil Family Estates as Brand Ambassador for California where I work closely with our distributor partner to educate customers and consumers about our wines. I truly enjoy the opportunity to educate others about the historical and cultural significance of wine – its inextricably tied to the land, the heritage, and the people of the country and I think that's beautiful.

I have also completed the WSET II & III programs (Pass with Distinction) in 2016 and 2019. I think the WSET program is crucial for anyone who wants to gain an understanding of the nuances of wine and winemaking. However, I felt I wanted to gain a deeper understanding of how history, culture, climate, terrain, etc. have uniquely impacted the Spanish wine style and industry as we know it today – this led me to the SWS program. I think this program has given me not only a broader understanding of Spain's role in the global wine industry, but also allowed me to delve into regions that are just on the cusp of reaching their full potentials. It's given me knowledge that I take into my work every day, but it's also re-ignited the curiosity that started it all.

The SWS program has helped me expand my knowledge about Spanish wine and wine regions. My career has allowed me to delve very deeply into certain regions, but there's so much more to know and explore! This program has given me a foundation on which to build through continuing to taste wines, reading, and travelling. I hope to keep sharing my passion and culture in an increasingly informed way with others.