5 Trending Italian White Grape Varieties
Maurizio Broggi
Tasting & Trends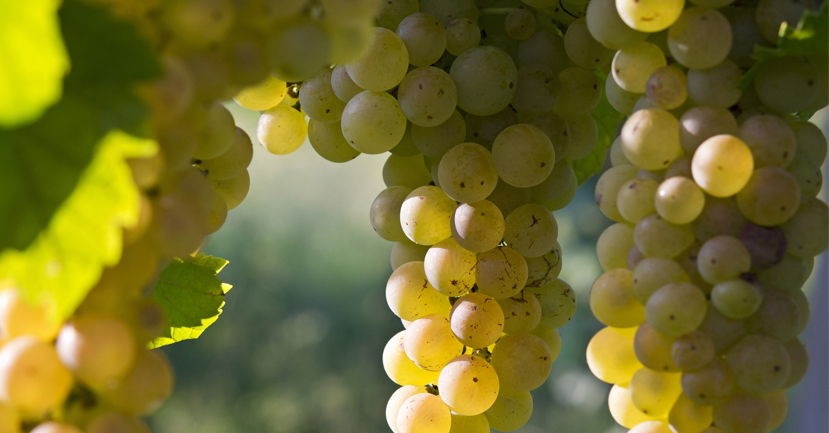 While Italian red wines still garner much of the attention, there are, without doubt, many outstanding white wines that deserve consideration. While white wines like Soave, Verdicchio dei Castelli di Jesi or Fiano di Avellino, are already well-known, there are also lesser-known — but rightfully trending — Italian white grape varieties that today produce exciting wines worth seeking out.
Erbaluce
In the northern part of Piemonte, near the town of Ivrea and just to the south of Valle d'Aosta, lies the historical and geographical area of Canavese. This area, and in particular the hills around Caluso, are home to one of Piemonte's most interesting and ancient indigenous white varieties, Erbaluce.
The name Erbaluce is said to reference the bright, amber color of ripe Erbaluce grapes. Historically, the grapes were air-dried to produce sweet passito wines that were revered among the wines of Piemonte. After a long period of decline, Erbaluce is now experiencing a gradual renaissance, thanks to the emergence of wines made in the dry style.
Erbaluce is a vigorous variety with low fertility. For this reason, it requires a large canopy and is traditionally trained using the pergola system. Due to its low fertility, Erbaluce has notably irregular yields. The grapes have thick skins and high acidity, which makes the variety ideal for the production of sweet passito style wines.
The wines have vibrant acidity and moderate alcohol, combining subtle floral and herbal notes with the fragrant aromas of citrus, apple and a lingering minerality. Dry wines are usually vinified in stainless steel, although a few producers use a proportion of oak.  Passito style Erbaluce is made from air-dried grapes (that are frequently affected by noble rot) and is matured in small oak barrels. These are intense, complex and long-lived wines with aromas of honey, marmalade, apricot, candied fruit, saffron and hints of vanilla. Interestingly, the high acidity of Erbaluce also makes it suitable for the production of traditional method sparkling wines.
The majority of the wines made from Erbaluce are labeled under the Erbaluce di Caluso DOCG. Some producers in the Alto Piemonte area also make varietal Erbaluce under the Colline Novaresi and Coste della Sesia DOCs.
Producers to look for: Cantine Crosio, Cieck, Favaro - Le Chisure, Ferrando, Bruno Giacometto, La Masera, Orsolani, Salvetti, Santa Clelia, Tenuta Roletto

Timorasso
Timorasso is an ancient, high-quality grape native to the Colli Tortonesi area, the hills that lie surround the town of Tortona in the southeastern corner of Piemonte. Today, Timorasso is rightly considered one of Piemonte's most exciting grapes, but there was a time when this grape came close to complete extinction.
Timorasso has been grown in Piemonte since at least the 14th century. Historically, it was one of the dominant white grapes in Liguria and in the southeastern part of Piemonte. Timorasso's plantings began to decline after the arrival of phylloxera, when growers opted to replant with more productive and less difficult grapes, such as Cortese. The poverty and devastation caused by the Second World War, and the economic and industrial boom that followed, led to the abandonment of many vineyards, ultimately drastically decreasing the plantings of Timorasso.
Almost having disappeared by the 1980s, Timorasso was rescued from obscurity by the dynamic producer Walter Massa (Vigneti Massa) who literally put the grape, and the wine, back on the map. In recent years, Timorasso's potential has attracted the attention of producers from outside Colli Tortonesi, including top Barolo and Barbaresco producers such as Borgogno, Vietti and Roagna.
Timorasso is a mid- to late-ripening variety that is not easy to grow due to its low and irregular yields. It is prone to botrytis bunch rot and requires well-exposed sites in order to achieve full ripeness.
The wines show floral (acacia and hawthorn) and citrus aromas along with hints of stone fruit and honey. They are notably marked by firm acidity and intense minerality. The palate is medium to full-bodied with a creamy mouthfeel and medium to high levels of alcohol. Timorasso wines age well, developing kerosene-like notes with bottle age. In fact, it is at its best after a least a few years bottle.
Timorasso is usually bottled under the Colli Tortonesi DOC and the labels often carry the designation Derthona (the ancient Latin name of Tortona), which is destined to become an official sub-zone for Timorasso.
Producers to look for: Borgogno, Boveri, La Colombera, Mariotto, Martinetti, Mutti, Poggio, Pomodolce, Ricci, Roagna, Vietti, Vigne Maria Coppi, Vigneti Massa, Vigneti Repetto

Pallagrello Bianco
The province of Caserta, in northwestern Campania, is home to some of the finest re‐discovered varieties in the region. The Pallagrello Bianco grape is one such variety.
First mentioned by experts in 1876, Pallagrello Bianco almost disappeared during the 20th century. It was brought back to general attention in the 1990s by Giuseppe Mancini (current owner of the Terre del Principe estate), who also resuscitated two other forgotten and distinctive red grapes, Pallagrello Nero and Casavecchia.
Pallagrello Bianco is a vigorous, fertile, mid-ripening and productive variety. The wines offer a round palate with good acidity and generous alcohol. Aromas include yellow apple, tropical fruit, stone fruit and honey. The richness on the palate, along with the characteristic exotic fruit flavors often draw comparisons with Viognier, although, due to the lower levels of terpenes, Pallagrello Bianco is less floral and overall less aromatic than Viognier. The wines develop notes of acacia, lavender and vanilla with bottle age.
Plantings of Pallagrello Bianco are still small and limited to the province of Caserta, however, the grape is increasingly attracting attention from producers and consumer alike. As there are currently no DOCs dedicated to wines based on Pallagrello Bianco, the wines are usually labeled under the Terre del Volturno IGT or Campania IGT.
Producers to look for: Alois, Alepa, Cantina di Lisandro, Castello Ducale, Masseria Piccirillo, Terre del Principe, Vestini – Campagnano

Carricante
In recent years the reputation of the wines of Etna have risen greatly. This rising reputation has principally revolved around the red wines based on Nerello Mascalese, but Etna is not just about red grapes and red wines. As a matter of fact, many producers also make excellent white wines from the local native grape, Carricante.
In the past Carricante was planted in other parts of Sicily, however, the high-altitude volcanic slopes of Etna are Carricante's true home, and today, it is virtually the only area on the island where the grape is grown.
Carricante is often found in the highest altitude vineyards of Etna, between 3,000-3,900 ft/900-1,200 m above sea level, where the red Nerello Mascalese is not able to achieve full ripeness. Plantings are concentrated on the eastern and southern slopes of Etna. The eastern side, particularly around the village of Milo, is considered the ideal territory for Carricante. Here the grape performs to its full potential, and it is where some of the best expressions of Carricante can be found.
Carricante has been traditionally planted in sandy, volcanic soils using the alberello vine training system. Many of the existing vines are old and grown on their own rootstocks. Carricante is known for its high yields, thus its production must be severely controlled in order to obtain quality grapes. The variety is notably high in malic acid and it is not surprising that in the past growers kept the wine in barrel, on its lees, until the following spring, in order to promote the onset of malolactic fermentation, which helped soften the wine's sharp acidity. Today, growers also tend to harvest Carricante as late as possible, in order to help naturally lower the variety's high acidity levels.
The best examples of Carricante show refined aromas of orange blossom, citrus, apple, anise and honey combined with intense minerality, racy acidity and moderate alcohol. They often display an attractive saline and savory character. Carricante can be ranked among Italy's most age-worthy whites and develops flinty and kerosene-like notes with bottle age.
Most Carricante is labeled as Etna Bianco DOC, which requires at least 60% Carricante. Although some producers blend local white grapes such as Minella, Catarratto or Inzolia, many examples are 100% Carricante. The designation Etna Bianco Superiore is reserved for wines made from at least 80% Carricante grown exclusively around the village of Milo.
Producers to look for: Benanti, Barone di Villagrande, Cottanera, Femina, Fessina, Girolamo Russo, Graci, Pietradolce, Planeta, Tenuta delle Terre Nere, I Vigneri

Manzoni Bianco
Unique from the other grapes discussed in this article, Manzoni Bianco is not a native Italian grape, but an Italian crossing. In fact, it is considered one of Italy's most successful crossings. Originally christened with the rather technical name Incrocio Manzioni 6.0.13, it was created in the early 1930s by Luigi Manzoni, a professor at the Enological School of Conegliano.
Manzoni Bianco is a crossing between Riesling and Pinot Bianco (Pinot Blanc). Some argue that Chardonnay may have been used, rather than Pinot Bianco, however most experts and producers dispute this assertion.
Manzoni Bianco is considered a 'noble' crossing thanks to the quality and character of the wines that can be produced from it. While initially neglected due to its poor yields, in recent years plantings have been gradually increasing thanks to quality producers who have begun to understand the true potential of the variety. Trentino and Veneto are notably the two principal regions that excel in the production of Manzoni Bianco. Plantings are also found in Alto Adige and Friuli.
Manzoni Bianco is an early to mid-ripening variety and it is resistant to various vine diseases, as well as to botrytis. Although it adapts well to a variety of growing conditions and soils, it generally performs best on hillsides over calcareous-clay soils. It is able to achieve high sugar levels while preserving high levels of acidity.
The wines made from Manzoni Bianco are characterized by floral notes (linden, wisteria, jasmine) along with aromas of apple, pear, stone fruit and hints of tropical fruit. Flinty and kerosene-like notes are also typical and become more prominent with bottle age. On the palate the wines show minerality and good structure thanks to their high acidity and medium to high levels of alcohol.
Producers to look for in Trentino: Fondazione Mach, Elisabetta Foradori, Vignaiolo Fanti, Cantina Toblino, Maso Furli. For Veneto look for Cà Lustra, Cecchetto, Cesconi, Cirotto, Conte Collalto, Sutto

Receive your FREE IWS Prep chapter!