A Guide to Recent Barolo and Barbaresco Vintages
Tom Hyland
Tasting & Trends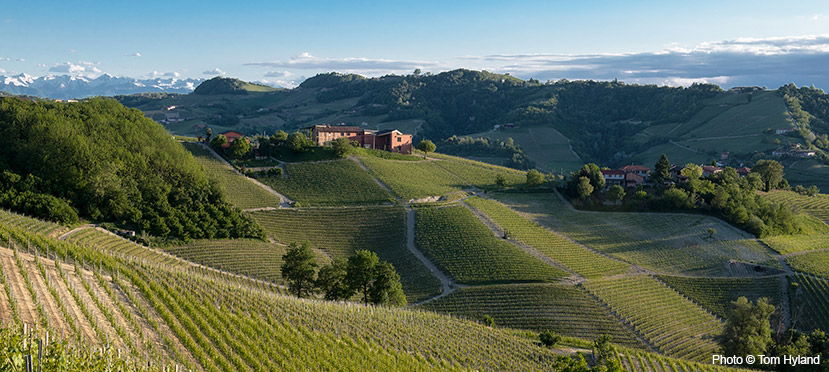 Thanks to a string of successful vintages, there has been a great deal of recent publicity regarding Barolo and Barbaresco wines.
Produced entirely from Nebbiolo, these two iconic wines have changed in style over the past 20-30 years; where once, the wines were reserved upon release, today, the wines are riper and more forward. This is largely due to climate change, as warmer temperatures throughout the growing season have necessitated Nebbiolo harvests some two to three weeks earlier these days than in the 1980s, '70s and prior; while late October to early November was normal for a Nebbiolo harvest thirty and forty years ago, today, harvest is more typically in early-mid October.
This does not lessen the aging ability of Barolo and Barbaresco wines, it is merely a statement of fact. The wines are different today, especially with alcoholic levels of 14%-14.5%, as opposed to 13%-13.5% less than 20 years ago.
With this in mind, let's look at recent vintages of Barolo and Barbaresco, and note their characteristics, quality and aging potential.
Recent Vintages:
2015 – A very warm year, resulting in wines with balanced acidity and a forward nature. Only the wines from Barbaresco have been released as of this writing (July 2018), as the Barolos from 2015 will be on the market in 2019. There were some very good examples of Barbaresco from 2015, yet most wines lack the depth of fruit and structure of a great vintage. Though a bit early to judge, 2015 will probably go down as an Average vintage.
2014 – A wonderful surprise, considering the colder temperatures (a departure from most recent years) and rainy weather. These are classic wines, with beautiful structure and outstanding varietal character. Many producers compare their 2014s with wines from the 1970s, making 2014 a classic Piemontese vintage. While the wines will probably not have the staying power of the very best years, 2014 is an Excellent vintage.
2013 – One of the finest vintages in the Langhe in the last two decades. Powerful wines with beautiful acidity and structure, and great staying power. Ideal varietal character. 15-20 years peak for the best Barbaresco, and 25 years-plus for the best Barolo. Outstanding
2012 – A vintage that will be overlooked due to 2013. Superb Nebbiolo character, beautiful acidity, and a true sense of place. The wines are not as powerful as 2013, but otherwise they are just as impressive. 12-15 years for most Barbaresco; 15-25 years for most Barolo. Excellent
2011 – A hot growing season resulted in forward wines with balanced acidity and less than ideal persistence. Nice varietal character, but not much staying power. Average
2010 – Ideal growing season, with superb results. Big wines with very good acidity and depth of fruit, backed by notable persistence. Great aging potential; 25 years-plus for Barolo. Outstanding
2009 – Hot year; wines have sharp tannins and lack elegance. Below Average
2008 – Cooler year meant a classic Piemontese vintage with wines that reveal their character with time. Great stucture, superb sense of place. Outstanding
Other vintages:
2006 – Powerhouse wines, should age for 25-35 years. Beautiful balance. Outstanding
2004 – Sensual wines with charm, finesse and great varietal purity. As floral a vintage as there has been in the last 20 years. Great long-term potential. Outstanding


Want to receive a free Italian Wine Scholar™ sample chapter?
Complete the form below for
more information and receive a
FREE sample chapter