Reinventing Abruzzo: Rising Stars
Tom Hyland
Regional Spotlight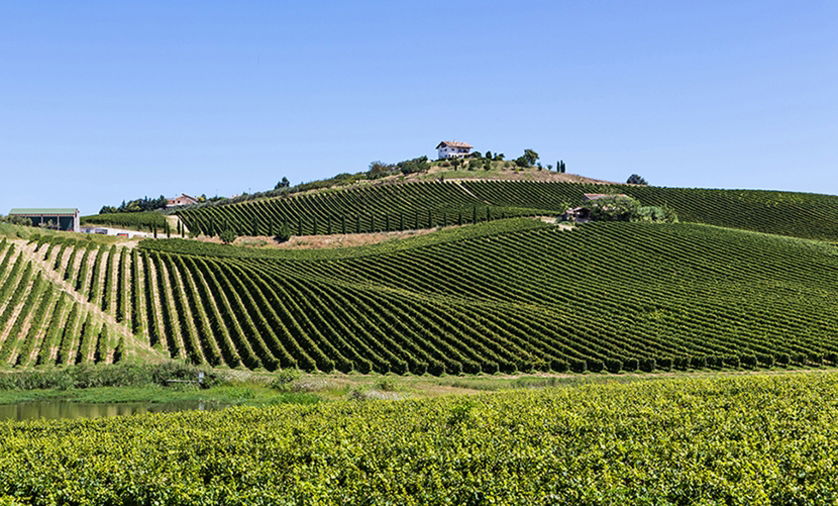 For much of the wine history of Abruzzo, large cooperatives established a perception that the region's wines were pleasant and technically correct, but offered little in the way of excellence. Today, the image of Abruzzese wine has taken on a new light, as dozens of smaller producers are crafting more sophisticated offerings that not only display superior complexity, but also offer greater elegance and aging potential as compared with the typical wines of the past.

 Where is Abruzzo?
The Historical Reputation of Abruzzo Wines
Stefano Illuminati knows all too well of the historical reputation of wines from Abruzzo. Co-proprietor at the eponymous family winery situated in Controguerra in the province of Teramo in the northeastern corner of the region, Illuminati recalls the advice his father gave him as he prepared to make his first sales trip to America in 1983. "My father sent me to work in the US and he told me, 'Stefano, go sell Illuminati wine. Tell the Americans that Illuminati is different than the others.'" The elder Illuminati wanted his son to let possible clientele know that their family was crafting wines that were from lower yields and more specific terroirs than what was typical at the time from the cooperatives.
As these large firms still dominate wine production in Abruzzo, Illuminati realizes the challenge he faces as a medium-sized producer. "Even today, we need to fight with the cooperatives; we must separate the cooperatives from the private wineries," he remarks. By continuing to use vineyards trained in the pergola system – they represent 50% of the firm's plantings – Illuminati believes he produces superior wines that offer greater character than those made by cooperatives using Guyot-trained vineyards where more vines can be planted per hectare; the firm's celebrated Zanna Montepulciano d'Abruzzo riserva (Colline Teramane DOCG) is sourced entirely from pergola vines, while their Riparosso Montepulciano d'Abruzzo is crafted primarily from pergola fruit.
How Vintners Have Changed the Mindset
Francesco Cirelli, winemaker/proprietor at his estate in Atri in Teramo province, reasons that a change in the mindset of some smaller vintners around 2010 had a noticeable effect regarding the image of Abruzzese wine worldwide. "Some small families that owned and managed wineries started to export wines with a different philosophy, a different winemaking system, a different perspective of Abruzzo. I'm thinking about Valentini, about (Emidio) Pepe, but also a bunch of young winemakers, small artists and winemakers who were able to establish what I call post-modern Montepulciano. These are wines that still today are fermented in concrete vats, stainless steel tanks, amphora. So Montepulciano d'Abruzzo delivered in a different way, without all that oak, without all that alcohol, without all that muscle."
Cirelli produces two separate versions of Montepulciano d'Abruzzo, one aged in stainless steel and one in amphora; there is a clear distinction between the two, with the latter displaying deeper color and greater intensity in the aromas (black plum, lavender and bitter chocolate), while offering more notable persistence and greater aging potential than the steel-aged wine; his 2019 is noteworthy at present, but should reveal greater character over the next ten years.
Exploring the Power of Amphora
But as strong an identity as Montepulciano contributes to Abruzzo, the biggest quality leap over the past ten years has been with two white wines, Trebbiano d'Abruzzo and Pecorino, along with several examples of Cerasuolo d'Abruzzo. While many producers still treat these wines in steel, it has been the introduction of amphora, employed during fermentation and/or aging, that has been the source of the new winemaking revolution in the region.
Among the estates that use amphora – primarily those made from terra cotta – Cirelli, Terraviva and Ciavolich have crafted some of the most expressive wines. Chiara Ciavolich dedicates a small percentage of her production to amphora-based wines, using the Fosso Cancelli label to denote these products. Her 2018 Pecorino is a stellar example; offering perfumes of yellow peach, nectarine, honey and golden poppy, the wine displays a creaminess on the mid-palate, with notes of pear and sunflower oil in the finish. Presenting outstanding varietal purity and complexity, this is light years ahead of the simple examples of this varietal that have been commonplace in the region.
Regulations Cementing Abruzzo's Rise
Ciavolich notes that several proposed changes in the region's disciplinare regulations should significantly improve the image of Abruzzese wines. The first concerns the elimination of IGT designations such as Terre di Chieti, Colline Pesaresi and Colli Aprutini in favor of one regional term, IGT Abruzzo. Even more important is the suggested introduction of a Montepulciano d'Abruzzo Superiore, which will define examples of this wine that are produced and bottled in the region.
"So that means you will have on a label finally, a difference between the wines that are bottled outside of Abruzzo and the wines that are made completely in Abruzzo," Ciavolich explains. "You know that now you can bottle a Montepulciano d'Abruzzo in Switzerland, for example, or in Milano or in Veneto. This is why Montepulciano d'Abruzzo has been such a mess over the last fifty years, as the majority of inexpensive Montepulciano you see on shelves all over the world was often bottled in Emilia-Romagna or in Veneto." She is hopeful these changes will take effect with the 2022 vintage.
These legal steps along with the use of various winemaking techniques as well as a mentality on the part of smaller producers to improve the wines – and image – of Abruzzo is clearly paying off, as Cirelli reasons. "I will say Abruzzo is not as sexy as Etna, but it is definitely one of the hottest wine regions of Italy."
Receive your FREE IWS Prep chapter!