Rioja Gold: The Past, Present, and Future of Aged Rioja Wines
Rick Fisher
Regional Spotlight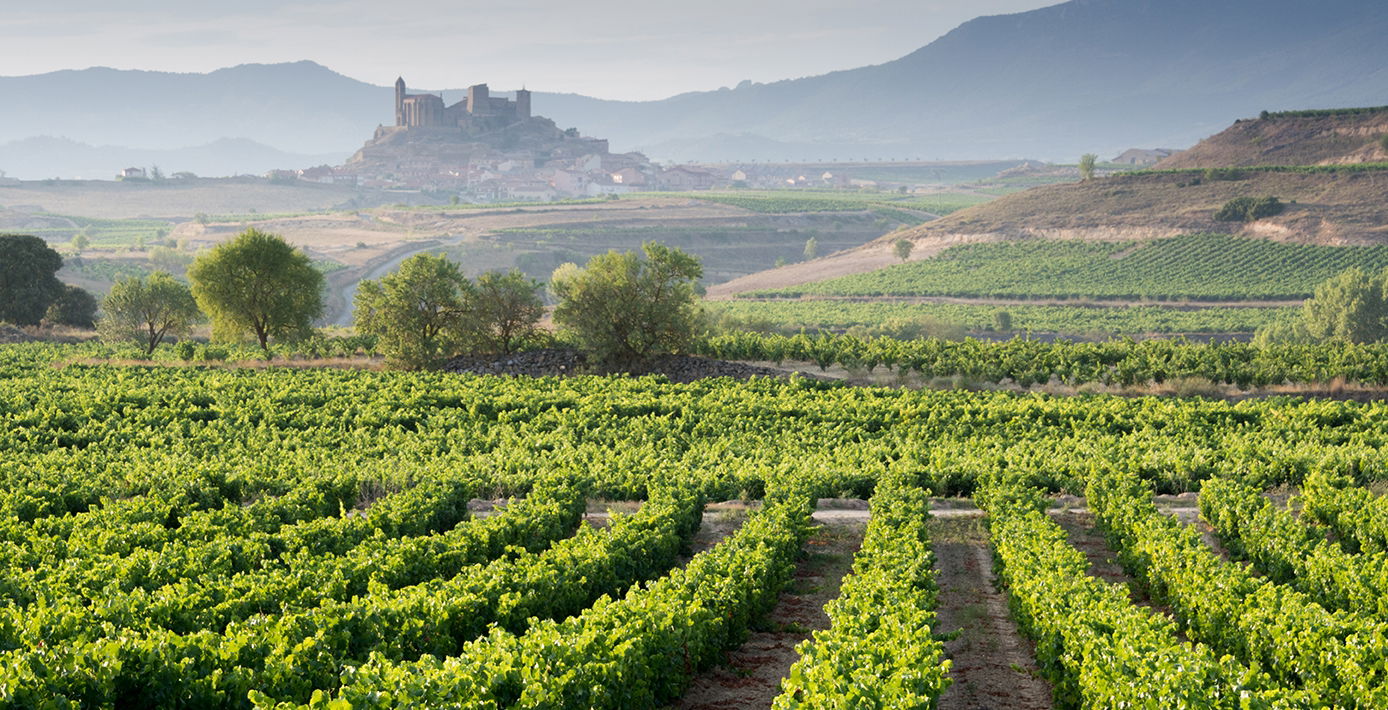 Bordeaux. Burgundy. Barolo. Rioja. Just the mere mention of any one of these wine regions conjures images of the world's best wines all sharing the ability to age for decades. The wines of Rioja have earned their place amongst this elite group; and whilst consumer tastes may swing like a clock's pendulum, the practice of aging wines in Rioja helps define its successful past, present, and future.
A BRIEF HISTORY
During the Neolithic period – nearly 7,000 years ago – wine was aged (stored) in clay pots/jars. The Greeks and Romans both saw the advantages of aging wine in clay amphorae. In fact, the Gospels (Luke 5:39) record the following: "And no one after drinking old wine wants the new, for they say, 'The old is better'." An ancient truth still valid today.

Archaeological evidence suggests the Phoenicians and Romans both occupied Rioja. The ruins of a Roman 75,000-liter clay storage tank have been uncovered here! Even more evidence of winemaking and premeditated wine maturation was taking place in Rioja during the Middle Ages. Following the storage practices of the Romans, the French began aging wines in barrels placed inside caves.

In the 1780s, Don Manual Quintano, a young priest from a grape-growing family in Álava, traveled to Bordeaux and returned to Rioja brining back with him the French technique of finishing a wine in an oak barrel to increase a wine's longevity. Unfortunately, the use of barrels in the cellar quickly became cost-prohibitive (due to local pricing regulations), and the practice was abandoned for nearly a century. In the mid-19th century, Rioja native (Colonel) Luciano Murrieta traveled to Bordeaux to study the latest cellar techniques and reinitiated the practice of barrel aging upon his return. Then, when the phylloxera louse decimated French vineyards, Bordelaise winemakers fled to Rioja to set up wineries, bringing with them their extensive winemaking knowledge. The rest, as they say, is history!
THE DYNAMICS OF AGING
Wine is one of the world's few consumable products which has the ability to improve over time – given, of course, the right conditions. Approximately 5-10% of wines are able to improve after one year while only about 1% will improve after five to ten years. So, why are Rioja wines able to age for extended periods of time?

The ageability of wine is due first and foremost to a variety of factors, including appellation location, grape variety, vintage, viticultural practices, winemaking style, and storage location. The rest involves the numerous complex and interrelated reactions which follow. Chemical reactions between acids, sugars, alcohols, esters (affected by the chosen yeast strain), and phenolic compounds and the polymerization of tannins change the wine into something more complex. Finally, the wine's exposure to oxygen (through the cork) helps it mature.

One of the most significant reasons why Rioja wines age is because of the practice of oak aging. The choice of American or French oak (only 225-liter barriques are currently authorized), whether new or used, and the toast level all contribute to the finished product. The use of American oak – in particular used oak – has been common in Rioja for more than a century. In fact, many wineries, including R. López de Heredia Viña Tondonia, rarely purchase new barrels, instead choosing to repair the decades-old American treasured oak barrels in their possession.

Rioja's use of American oak barrels originated with Spain's discovery of the New World. (Trade in American oak flourished as it was considerably less expensive than French oak.) However, the use of French barrels, was reinvigorated by the Marqués de Cáceres in the 1970s. Today, some producers opt to utilize a combination of both as each type of oak has positive attributes.

This said, American oak barrels still seem to be the primary choice of most winemakers due to its ability to integrate seamlessly with Tempranillo and its common blending partners. American oak still represents the more "classic" style of Rioja. Only time will tell if this "classic" style will hold up against the more "modern" wines produced in French (or even eastern European) oak barrels.

Producers release their wines when they feel they are approaching the peak of their maturation curve. The consumer can then drink these wines upon purchase or allow them to develop additional depth and complexity by storing them in their personal cellars.
THE AGING GRAPES OF RIOJA: TEMPRANILLO & VIURA
A significant reason for the ageability of Rioja wines comes from the choice of primary grapes used in the process. The red grape Tempranillo and the white grape Viura are entirely suited to the long-term aging process.

Tempranillo – Spain's noble grape – generally has moderate acid, alcohol, and tannin with a savory (rather than sweet) profile. It has a solid structure for aging and is rarely used as a stand-alone variety in the region. Jancis Robinson notes that when compared to the best wines of Bordeaux, Tempranillo plays the role of Cabernet Sauvignon adding structure and ageability to the final blend. Common blending partners include Garnacha (which adds alcohol and fruit), Graciano (which provides acidity), and Mazuelo/Cariñena (adding alcohol, color, and additional structure and ageability).

Over the course of numerous years, these Tempranillo blends can change (and the nature of the change depends on the winemaker's choice of oak barrel). There is a considerable evolution of aromas and flavors. Rioja's savory signature with understated red and black fruit picks up dill, coconut and vanilla when placed in American oak, and mocha and spice when placed in French oak.  Over the course of (oftentimes) decades, these flavors are then layered with meaty, herbal, leather, and tobacco notes coupled by soft, silky tannins.

Often a surprise to many are the spectacular aged white wines of Rioja. These wines are anchored by Viura (better known as Macabeo outside of Rioja). This grape, much like Tempranillo, has moderate (to moderately-high) acidity and alcohol, making it a prime candidate for long aging in barrel. This grape is a bit more finicky than Tempranillo in that it can be an overly productive grape and lose acidity quickly. As a result, significant attention much be given to reduce yields and monitor harvest – which normally happens early in order to maintain the necessary acid levels to allow it to age and evolve for decades.

Aged white Rioja is also commonly a blend of more than one grape. In this case, Malvasía is its most common partner, adding a layer of textural complexity and viscosity which helps to round out the acid structure of Viura. There are numerous spectacular examples of aged white Rioja which show deep, gold color along with notes of apple and lemon peel, nutmeg, toffee, and roasted nuts. Fortunately, a number of wineries realize the value of these wines and continue to produce them – with great success!
AGE-SPECIFIC DESIGNATIONS
Few wine regions in the world have aging requirements as strict as Rioja. While some may view these strict requirements as a hindrance given the need for extended storage during the aging period, it is just this fact that makes the aged wines of Rioja so valuable. This practice has been commonplace for decades.

In order to be granted an aging designation, wines – red, white, and rosé – must meet certain requirements. The current four categories in Rioja (from least aged to most aged) are Genérico, Crianza, Reserva, and Gran Reserva. The minimum barrel and bottle (red only) requirements are detailed below:
DOCa Rioja Minimum Aging Requirements – Tinto

Designation

Time in Barrel

Time in Bottle

Time Before Release

Genérico

No minimum

No minimum

No minimum

Crianza

12 months

No minimum

24 months

Reserva

12 months

6 months

36 months

Gran Reserva

24 months

24 months

60 months
DOCa Rioja Minimum Aging Requirements – Blanco/Rosado

Designation

Time in Barrel

Time in Bottle

Time Before Release

Genérico

No minimum

No minimum

No minimum

Crianza

6 months

No minimum

18 months

Reserva

6 months

No minimum

24 months

Gran Reserva

6 months

No minimum

48 months
For many producers, the expense of holding a wine for years before release can be costly, and, as a result, many choose to release wines early and without traditional aging categories. For many of the region's top bodegas, however, the practice of holding wines is still widespread. They understand the importance of bottle age and do not wish to pass along the aging responsibility to the consumer.

Up to this point, the discussion has been about the ageability of Rioja's still wines, but in 2017 Rioja created a new category for its sparkling wines – Espumosos de Calidad de Rioja. In an effort to create some of Spain's (and eventually the world's) top sparkling wines, this category solidifies the ageability of sparkling wine from the region. Wines labeled "Reserva" must age sur lie a minimum of 24 months, while the new "Gran Añada" category requires a minimum of 36 months total aging. While the category is young, the outlook is promising.
RECENT DEVELOPMENTS
A trend towards more terroir-driven wines has swept the world and Rioja has taken notice. In 2017, legislation was passed which aims to highlight the diversity of terroir within the region. The "Viñedos Singulares" distinction identifies vineyards which have met certain strict conditions and are subsequently registered as a brand by the DOCa. Additionally, these bottlings are authorized to carry the relevant aging classifications of Genérico, Crianza, Reserva, and Gran Reserva. However, given the high level of distinction afforded these wines, it is likely producers will only use the Reserva and Gran Reserva categories.
CONCLUSION
Aged Rioja has been and continues to be one of the world's great wine experiences. In a 2018 SevenFifty Daily interview, María José López de Heredia stated, "A wine can be both modern and traditional. Sometimes traditions can be modern and modernity can be traditional." Her words continue to ring true today. In the past, Rioja quietly created some of the world's most spectacular aged wines. Today, its voice is louder and prouder as it shares its aged treasures – true Rioja Gold – with the world.
Want to receive a free Spanish Wine Scholar™ chapter?
Complete the form below to receive your FREE chapter