The 2021 Vintage in France by Andrew Jefford
Andrew Jefford
Tasting & Trends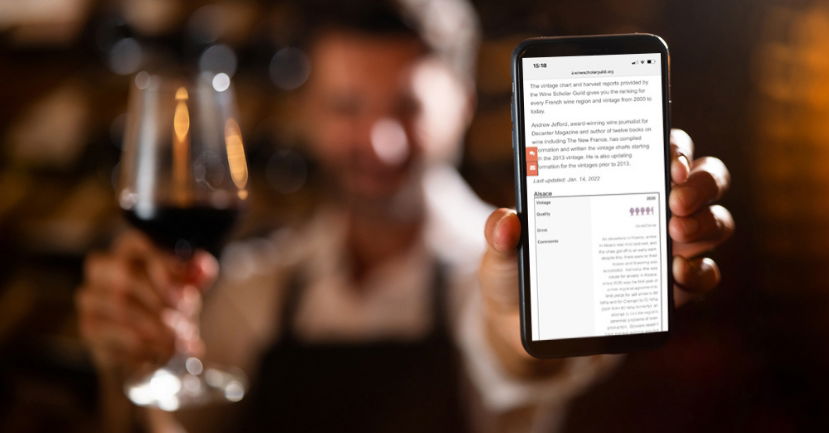 The vintage chart and harvest report provided by the Wine Scholar Guild give you the ranking for every French wine region and vintage from 2000 to today. The most recent vintage report is published two years following the vintage, i.e. the 2021 vintage report was published in 2023. 

Andrew Jefford gives us his insight about the 2021 vintage in France. Andrew is an award-winning author and columnist of Decanter and World of Fine Wine, Co-Chair of Decanter World Wine Awards; Vice-Chair of Decanter Asia Wine Awards as well as Wine Scholar Guild Academic Advisor, gives us 
A return to 'normal'? A moment to celebrate classical freshness and moderate alcohol levels? Welcome back to zesty, mouth-watering wines? That, at any rate, would be the campaigning line for publicists keen to put a shine on the qualities of France's 2021 harvest. Treat the argument warily.
It was a small harvest: 37.5 million hl, or 13% lower than the average of the last six vintages and 20% lower than the 2020 harvest. Worst hit were the Loire Valley, Burgundy, Savoie and the Jura: all of them around 34% lower than in 2020, but every region save Provence registered a decline. Why? The main though not sole reason was that France suffered its worst frost-related agricultural disaster since systematic record-keeping began in 1947, with 98 per cent of the country affected in one way or another. Some regions experienced 12 nights of frost in the first 17 days of April, and every wine region experienced at least two nights on frost on April 7th and 8th. The wine community is particularly vulnerable to such events, since the notably warmer winters provoked by global warming are leading to ever-earlier budburst. It seems likely too, that the periodic descent of polar air into the northern hemisphere during spring is related to climate change, notably the disruption of the polar vortex brought about by rapidly diminishing Arctic sea ice. The fact that spring frost challenges seem to be becoming a regular feature of French wine-growing life (with significant occurrences in 2016, 2017 and 2021, and with only 2018 out of the last six vintages being entirely free of frost-damage) is ominous.
Frost wasn't the only villain. For northern French wine regions, summer 2021 was wet and often stormy, with losses due to frost being compounded by disease in the vineyards; it was an exhausting summer for many growers, as they battled excessive vegetative and weed growth as well as attacks of downy and powdery mildew and eventually botrytis. Southern France, meanwhile, flirted with drought conditions – and when the rain eventually came, it came too late to bring benefits. Summer throughout the country was cool, with many growers having recourse to chaptalisation (notably on Bordeaux's Right Bank and in the Northern Rhône). These are not the conditions which lead to beautifully balanced, resonant and expressive wines, though surprises are being reported in a couple of regions – such as the best red-wine sites in the Côte d'Or, and the best Riesling sites in Alsace. In general, it will be a vintage to drink young, while the wines still have enough fruit and flesh to cover their bones.
Spare a thought, finally, for the ill-starred growers of Sauternes and Barsac. This is the only wine region in France where the quality of 2021's finished wines is said to be outstanding. After summer's multiple challenges, though, quantities are ludicrously small (more like a quarter-glass per vine rather than the usual glass per vine); moreover crippling frost meant that a number of properties have been able to make no wine at all. A great vintage – and no wine to sell. It doesn't get worse than that.
Also view our French Wine Vintage Chart and detailed Vintage Reports for all French wine regions HERE. They have just been updated by Andrew Jefford and now include the 2020 vintage!
Access Your Free French Wine Scholar™ Chapter Now!