Discover the Latest Version of French Wine Scholar®
Valentine Touzeau
Latest News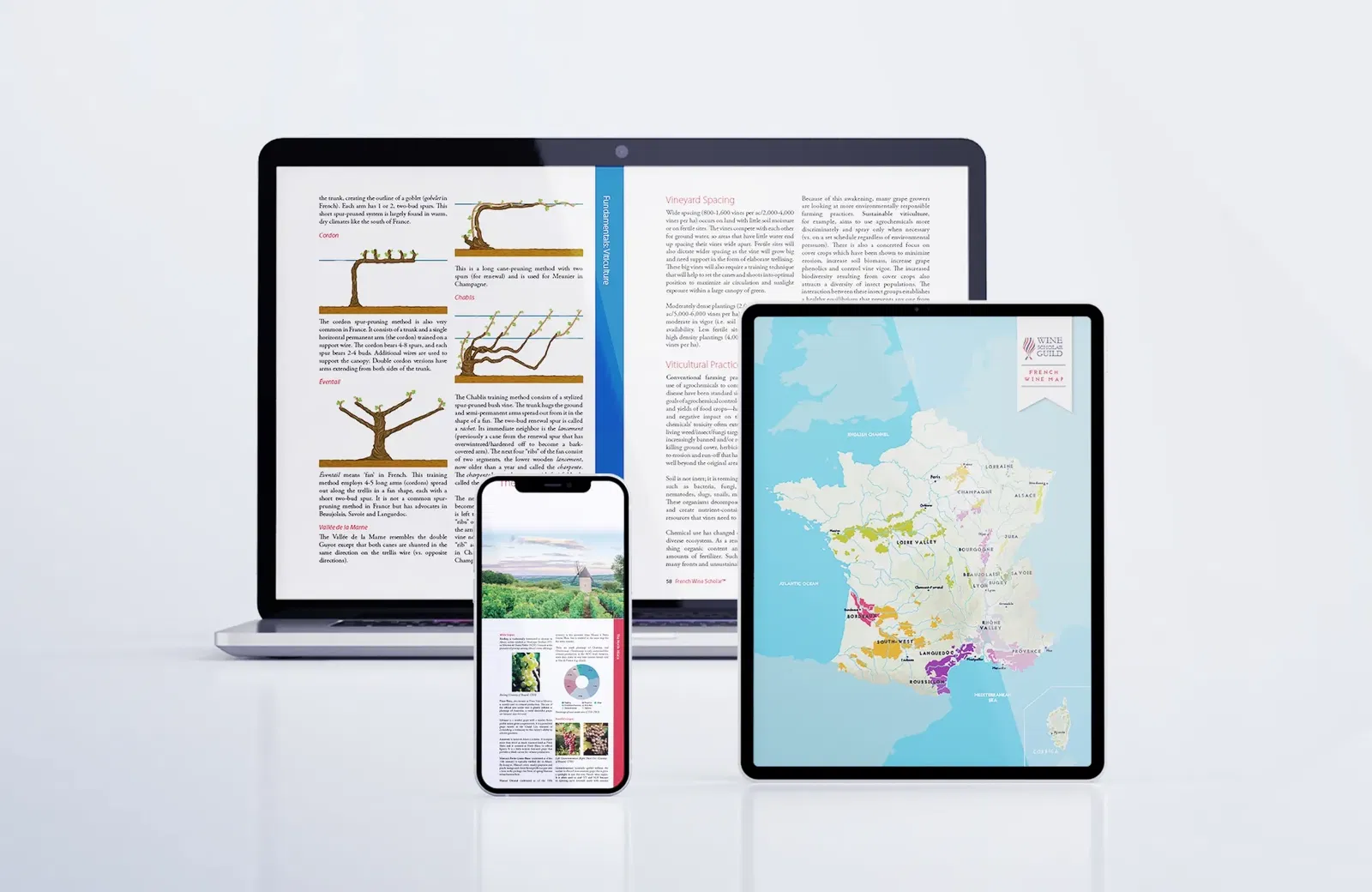 It's official! We have launched the 7th version of the French Wine Scholar® program!
The updated study manual, state-of-the-art e-learning modules, and instructor resources have been carefully enhanced to create the most current program on the wines of France.
This newest version is the product of tremendous work from our Education and E-Learning Teams, enabling us to offer students a brand-new experience of our most popular study program. Every aspect of FWS has been redesigned and conceived to engage students' critical thinking.
We chatted with Lisa Airey, WSG Education Director, to hear more about the improvements and updates.
"Our approach is designed to give our students a working knowledge of the material. We put the facts in context and explain why these facts are important. We want our students to understand why French wines have the structural, flavor and aromatic profiles that they do. To that end, we've built critical thinking exercises into our teaching materials and e-learning. We connect the dots. This gives our students a very comprehensive learning experience."
Let's take a closer look at some of the exciting changes.
Updates and Additions to the Study Manual
The 330-page study manual has been updated and overhauled and is now available in e-book format. Focus is on current regional trends and challenges such as sustainability and climate change.
Incorporating "fast facts," charts, and improved infographics organize key facts for ease of retention. In addition, we have included an AOC index and a glossary, previously only available for download, in print and e-book format.
As a student of French wine, making sense of the Appellations d'Origine Controllée (AOCs) can be daunting, especially as other sources often quote different figures. Therefore, the study manual focuses more on AOCs and includes a comprehensive resource explaining how they are counted and how to find your way around the differences.
Innovations in E-Learning and Additional Resources
Learning is now more active with new digital tools bringing the learning experience to life. Features include:
Interactive aerial videos of vineyard areas bringing wine regions to life
Regional quizzes
A 50-question practice exam with answer key
Revised e-flashcards
Downloadable and blank practice maps
Another invaluable addition to the resources is a producer compendium. We firmly believe that producer knowledge is vital to any wine journey and will round out students' "book smarts." Furthermore, the collection gives students a starting point from which they can launch their vinous explorations.
Becoming a French Wine Scholar Has Never Been So Interactive
Overall, the program's redesign facilitates knowledge retention and keeps learning fresh and stimulating at every step of the course. We believe that learning about wine is more than memorizing a list of facts. We aim to give wine enthusiasts and professionals the tools and resources necessary to discuss and understand the French Wine landscape with confidence and authority with the FWS Program.
Want to learn more about becoming a French Wine Scholar? There are three ways to become one!