Wine Scholar Guild Launches WSG Studio
Valentine Touzeau
Latest News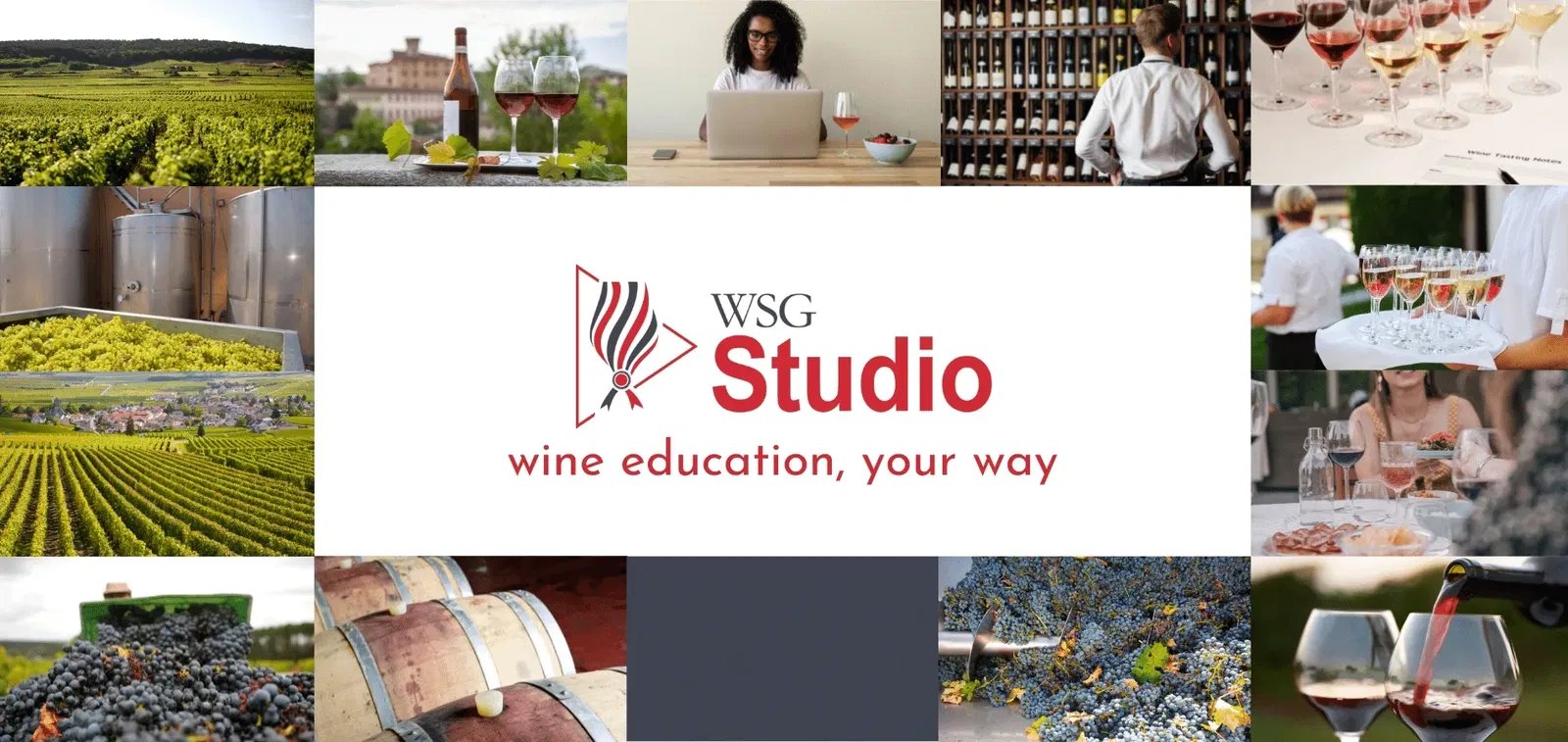 We are thrilled to announce the arrival of WSG Studio, a digital hub featuring an extensive collection of live and on-demand wine education content! With WSG Studio, wine students of all levels can curate their own independent learning paths to complement their studies, or simply connect to stay current in their knowledge.
Building on our rich library of recorded member events, WSG Studio features up-to-date perspectives on wine history, wine trends and regulations, regions, climate, soils, viticultural and vinicultural practices, and more. All guest presenters and panelists are experts in their fields including Masters of Wine, Master Sommeliers, winemakers, renowned wine journalists, and more. Hosts include Mary Kirk, WSG's Member Manager and Andrew Jefford, award-winning and renowned wine writer, among other guest hosts. 
We chatted with Mary about how WSG Studio came about. Here's what she had to say:
"I am thrilled that WSG Studio has been created in response to valuable feedback from our members. Our live and on-demand content has always been top notch, however WSG Studio makes it even easier to access. This hub of great educational content allows wine lovers to learn 24/7."
WSG STUDIO PROGRAMMING AND FEATURES
Programming and event categories include:
WSG Live – 40+ yearly events led by leading industry specialists, always recorded for on-demand viewing
Meeting of the Minds – Andrew Jefford hosts a panel of key thinkers, educators, writers, and experts as they debate around current issues in the wine world
WSG Confidential – Andrew Jefford interviews extraordinary individuals working in today's wine world, both those involved in creating wines as well as those involved in communication and education
WSG Replays – 300+ past events available for on-demand viewing
New and improved digital features make for a user-friendly experience and include:
My List: your own place to keep your favorite WSG Replays, add to your queue for later viewing, or curate your own learning path to compliment your educational journey
Podcasts: all videos can be downloaded as audio files for podcast listening
WSG Team Favorites: an ever-evolving collection of the top picks from the WSG program directors and team
Add to Calendar: this feature allows members to easily create a calendar reminder in their local time zone as to not forget upcoming live events of interest
Easy Play Back: just like on your favorite streaming platforms, you can see in one glance how much you've watched and pick up where you left off
GAIN UNLIMITED ACCESS TO WSG STUDIO
Unrestricted access to WSG Studio is included in WSG membership which costs $100/year (that's less than $10 a month!). WSG membership also includes a myriad of other benefits and perks, including discounts on WSG study programs, leading wine books and publications, and on wine accessories. Visitors who are not WSG Members may watch one complimentary WSG Live or WSG Replay of their choice upon creation of a free account.
PRESS PLAY, SIT BACK, AND SIP
To have a look at this amazing resource for wine lovers, visit WSG Studio by clicking here.
If you're already a member, you can expect the same high-quality content as before, just with a new, easier to navigate interface.
Not yet a member? No problem! Create a free account and you can watch one complimentary WSG Live or WSG Replay. Otherwise, become a WSG member today and gain instant access to WSG Studio and immediately benefit from the other WSG member perks and discounts!