Bourgogne Goes Green
Nicholas Poletto
Viticulture Insights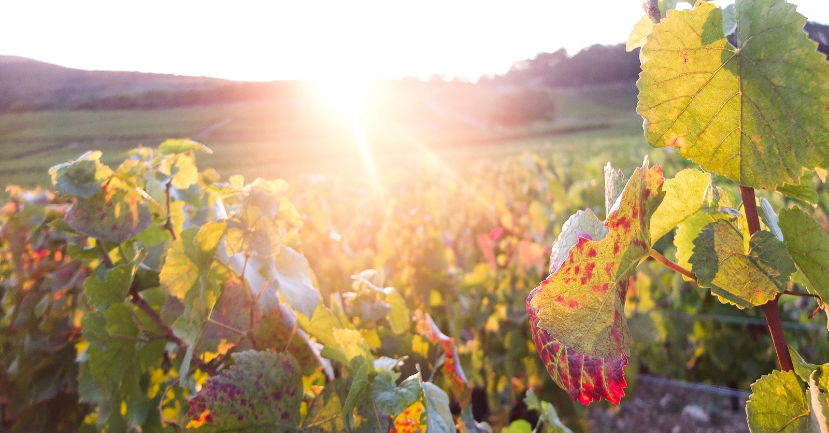 One of the most significant trends happening in Bourgogne today, is a movement towards sustainable, organic and biodynamic viticulture. Due to the warming of temperatures, increase in sunlight and shift in rainy season, there has been less vineyard mildew pressure, drier soil and earlier harvests. This change in climate, combined with the desire for a more ecologically sustainable growing model by Bourgogne producers, has led to the recent trend towards Green Farming.
The biggest challenge facing grape viticulturists in Bourgogne is mildew pressure. In Bourgogne, mildew comes in the form of Oidium and Grey Rot, which thrive in cloudy, damp environments. Mildew can damage the vine, the foliage and the grape clusters, causing stunted growth, loss in fruit flavor, and low-quality. While organic sprays such as copper and sulfur can help maintain healthy fruit, the high level of mildew pressure typical of Bourgogne, often requires non-organic sprays. Jake Terrell, viticulturist and sustainable farming expert explains that the main reason vineyards become disqualified from Green Farming certifications (sustainable, organic,
biodynamic), is because of non-organic fungicidal sprays used in high mildew pressure regions. Significant climate change over the past 50 years, and especially the past 20 years, is changing this dynamic in Bourgogne. "In the 1950s, the average growing season temperatures were 15.5 C in Bourgogne and 16.5 C in Bordeaux", writes Benjamin Lewin MW. Benjamin goes on to explain that by 2010, Bourgogne had a 10-year average temperature equivalent to Bordeaux in the 1950s. Furthermore, a 2020 Bourgogne climate study done by the Universite' Bourgogne Franche Comte', shows an accelerated warming trend averaging 17C from 2010-2020, with 2015 being 18.5, 2017 18C and 2018 reaching 19C. A dramatically different growing environment from just 20 years ago.
The result of this warming trend has been a decrease in soil moisture, a decrease in mildew pressure and an increase in sunlight. This warmer climate has produced healthier and drier fruit clusters. The drop in mildew pressure has allowed viticulturists to dramatically decrease theirfungicidal sprays and even eliminate it completely. In an area that was once known for botrytis problems, winemakers no longer see this as a major threat, making Green Farming more achievable. Winemaker Frederic Barnier at Maison Louis Jadot says the effect has been so dramatic that in 2019, 95% of all Domaine Louis Jadot vineyards were farmed organically. Another factor that has Bourgogne wineries trending towards Green Farming certifications, is an earlier harvest and change in rain pattern. Over the past 50 years, Bourgogne has achieved an earlier harvest by an average of 17 days. This has allowed them to avoid the typical Autumn rains that can force a vineyard to spray fungicide or face devastation from mildew. It is important to note that total rain fall has not changed, but instead the pattern has moved from summer and early autumn, to late autumn and winter. This delayed rainy season has further helped Green Farming be successful by allowing for a drier harvest. Bourgogne Specialist, Don Kinnan says: "There is no doubt that growing seasons have seen more warming temperatures in recent years. Prior to 2011, Chablis had never had an official beginning of harvest in the month of August. Between 2011-2018 they have had three."
While the change in recent Bourgogne climate is undeniable, there is another element at work pushing this region towards Green Farming. Specialist Don Kinnan explains that: "There has been a growing movement to protect the environment, especially among the younger generation. This translates into viticultural practices that eliminate agrochemicals and instead increases reliance on organic products." In speaking with Winemaker Frederic Barnier, he confirmed this sentiment. He believes Green Farming is a transition we must make as a wine community, as a global unit, to help maintain the health of our earth and vineyards.
Today, the trend is for Bourgogne growers to follow one of the following agricultural philosophies: Haute Valeur Environnementale (similar to sustainable), Biologique (organic), or Biodynamique (Biodynamic). While many do not seek certification, this too is changing. Recent data by French organic certification agency Agriculture Biologique en Bourgogne shows that over the past 10 years, the number of new Bourgogne Domaines filing for organic certification has increased by 180%. More recently, from the year 2017-2018, 48 new Domaines filed for organic certification in Bourgogne. More evidence of this Green Farming trend can be seen by the increase in total organic farmed vineyard land. From 2009-2019, the amount of vineyard land in Bourgogne that achieved organic certification increased by 150%. More recently, from 2017-2018, certified organic vineyard land in Bourgogne has increased 14%.
There is no doubt that Green Farming practices have surged in Bourgogne over the last 20 years. I believe this trend can be attributed to both climate change and a growing movement to protect the environment. Climate change has given Bourgogne warmer vintages which have meant less fungal pressure, earlier harvests and new rain patterns. This has decreased the need for nonorganic fungicides and made Green Farming much more achievable. The second factor that has contributed to this Green Farming trend is the younger generation of Bourgogne winemakers. There is an understanding that we must take care of our planet, realizing a healthy soil is a key ingredient to future viticulture success.
Access Your Free French Wine Scholar™ Chapter Now!
This blog article written by Nicholas Poletto is one of the winning essays of the Annual WSG Scholarships for Master of Wine Candidates.

Each year, Wine Scholar Guild awards a full scholarship for each WSG study & certification programs to three students of the Institute of Masters of Wine. These scholarships are designed to allow students preparing for the Master of Wine exam to further and strengthen their French, Italian or Spanish wine knowledge.