Top 5 AOCs to Discover in Languedoc and Roussillon
Andrew Jefford
Regional Spotlight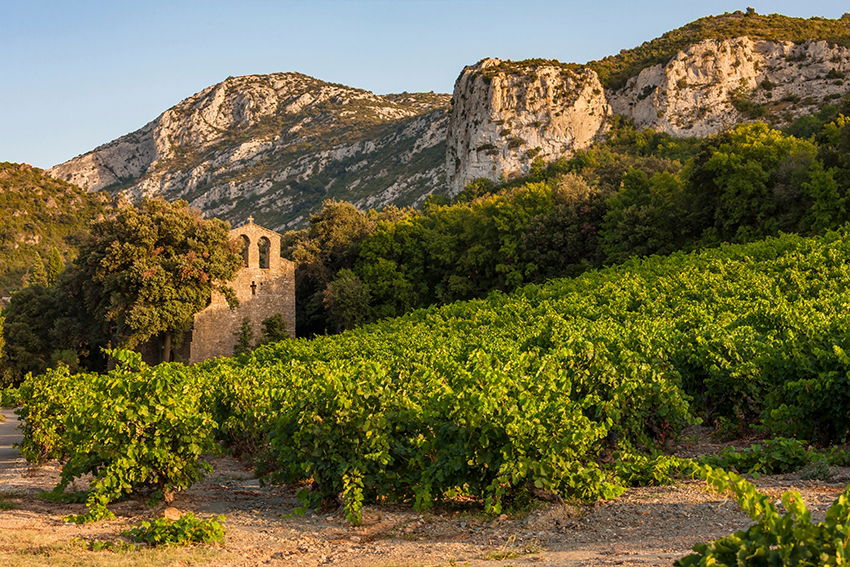 For wine lovers, there are two Languedocs...
The easy one to visit is the coastal plain: that's where most Languedoc-dwellers live, in busy, colorful cities like Montpellier, Beziers and Narbonne. It's also where holidaymakers throng the safe, sandy beaches in summer. The wines grown down on the plain, though, tend to be inexpensive IGP picks – often great value, but rarely inspirational (though the fine Muscats are an exception, as is Picpoul de Pinet).
Then there are the hills: vast, wild, savagely beautiful, sparsely populated, where the great wines of Languedoc come into being. These dramatic, complex, characterful blends are crafted by winemakers living lives of struggle and endurance (a huge contrast to the lavishly remunerated wine farmers lucky enough to work in the most-visited parts of Bordeaux and Burgundy). If you don't know Languedoc, you don't yet know France – or French wine.
Don't forget Roussillon either. It's often linked with Languedoc, yet its wholly different not just in cultural terms (this is French Catalonia, famous as the last redoubt of the Cathar heretics) but as a biotope, too. Like Languedoc, Roussillon has two faces, though in this case two of equal grandeur. Its great table wines are fashioned inland, notably in the roomy Agly valley; while a long and treasured tradition of fortified-wine making persists along the rocky, schist-soiled coastline – though dry, unfortified wines are increasingly common along this 'Vermilion Coast' as well.
Here are five appellations to remember as you explore the region.
Pic St Loup
Is this Languedoc's luckiest appellation? Its immaculately weathered limestone soils insist on a wine-growing vocation; its climate is a little wetter and cooler than those of appellations further south and west, meaning that this is perhaps the greatest spot in Languedoc for Syrah; and it lies within easy reach of Languedoc's busy, populous capital, Montpellier. Topographically, too, you just know that this is great wine country, clinging to the the prow-like Pic itself, the cliffs of Hortus and the long escarpment that stretches back to the north. No surprise, then, that the appellation bulges with winemaking talent.
Names to watch:
Bergerie du Capucin
Mas Brugière
Château de Cazeneuve
la Chouette du Chai
Domaine Clavel
Domaine Haut-Lirou
Domaine de l'Hortus

Château

 de Lancyre
Domaine Mirabel
Mas Mortiès
Domaine Pégaline
Terrasses du Larzac
This huge appellation stretches from remote Moulès et Baucels and the vineyards of the 'lost valley' of the Buège (complete with its immaculate spring) down to the heartland of Montpeyroux, Jonquières and busy St André de Sangonis underneath lofty Mont St Baudille. It then turns north again and romps back up into the hills via the extraordinary schist rockyards of St Jean de la Blaquière to lofty Pégairolles de l'Escalette, a true mountain vineyard zone. There's prodigious potential here, and the best wines of the Terrasses du Larzac have a nerve, a vitality and an inner complexity you don't readily find elsewhere, though they tend to be less fleshy and flamboyant than their peers. Remember, too, that this is where you find long-term Languedoc pioneer Mas de Daumas Gassac, though it uses IGP rather than AOC for its elegant Cabernet-based red.
Names to watch:
Château

 Capion
Mas Cal Demoura
Mas Combarèla
Domaine de Ferrussac
Mas Jullien, Mas Lasta
Pas de l'Escalette
La Pèira
Mas de Quernes
Clos du Serres
Domaine Terre de Feu
Les Vignes Oubliées
St Chinian
Every wine student knows St Chinian – since it's one of the few appellations in France whose wines are produced on two clearly contrasting soil types, schist and limestone. Nuancing the two sectors in scent and flavour is a fascinating challenge. What I love about the appellation, though, is that this set of wines (from yet another iteration of beautiful, remote, garrigue-covered hills) seems to combine the richness and juiciness of flesh typical of the Western Languedoc with the structure, inflection and nuance you tend to find further East. St Chinian is the happy medium, the middle way – and outstanding quality and ageing potential is possible here, too.
Names to watch:
Vignoble Belot
Borie la Vitarèle
Clos Bagatelle

Château

 Castigno

Château

 de Ciffre

Château

 Coujan
Mas Champart
Mas de Cynanque

Château

 la Dournie

Château 

Fonsalade
Domaine la Linquière

Château

 Milhau-Lacugue
Laurent Miquel
Domaine Les Païssels
Domaine de Pradels-Quatironi

Château

 du Prieuré des Mourgues
Cave de Roquebrun
Domaine de Viranel
Faugères
Faugères takes the schist theme from its neighbour St Chinian – and makes it the whole story. All of the vineyards of Faugères are rooted in schist which, to the casual glance, almost resembles the Douro valley or Priorat in its rocky outcrops and their lack of soil. That extra touch of mineral austerity, combined with slightly higher vineyard altitudes than many parts of St Chinian, lead the wines of Faugères away from voluptuous fruit and towards something more sinewy, stony and haunting than those of St Chinian, though extravagant ripeness is always possible here. Look out, too, for the rosé wines of Faugères: bright, firm and stony once again, full of metaphorical glints and shards.
Names to watch:
Abbaye Silva Plana
Mas d'Alezon
Bardi d'Alquier
Léon Barral
Domaine de Cébène

Château

 Chenaie

Château 

des Estanilles
Mas Gabinèle

Château

 de la Liquière
Mas Lou
Domaine la Tour Penedesses
Maury and the Agly Valley
There are few more evocative views in the South of France than the view from the vineyards of Mas Amiel, looking up to the ruined Cathar fortress of Queribus. Climb up to that fortress, moreover, and you can follow the Agly Valley far up to the wild Fenouillèdes: vineyard after vineyard, coaxed from soils and stones which change ceaselessly, here, in a swirling matrix. Summers are hot and dry and ripeness comes easily – but that still doesn't quite explain the power and the density of the best of the wines grown here, allied to an exotic, almost incense-like richness you won't find in Languedoc (even just over the ridge line in Corbières). The Maury Sec appellation marks out the heart of the valley, but there are many fine Agly wines which go to market under the Côtes du Roussillon-Villages appellation, too, including its crus Latour-de-France, Lesquerde, Caramany and Tautavel.
Names to watch:
Mas Amiel
Domaine Danjou-Banessy
Domaine Gardiés
Mas Mudigliza
Clos del Rey
Domaine des Schistes
Domaine des Soulanes
Always dreamt of visiting Languedoc Roussillon? We still have spots remaining for our study trip from May 21-26, 2023! Join Matthew Stubbs MW and our small group of dedicated wine students to discover these fascinating regions.