Transforming Tempranillo by Sarah Jane Evans MW
Pierre Freyermuth
Wine Education & Careers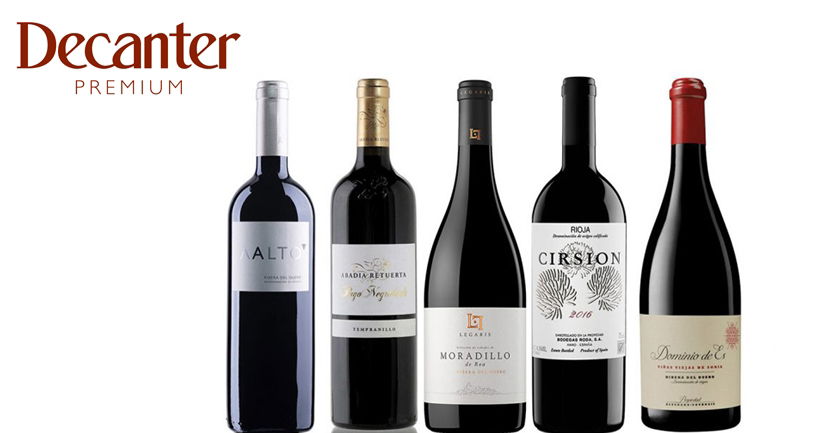 As part of a partnership between Wine Scholar Guild and Decanter, we are pleased to share with our readers this article pulled from Decanter Premium.
WSG members enjoy a 20% discount on their Decanter Premium subscription! Get your coupon code HERE
Over-zealous planting and heavy-handed use of oak haven't done its reputation any favours, but Spain's most widespread variety can make excellent wines. Sarah Jane Evans MW highlights the regions and producers helping Tempranillo reach its full potential.
To begin with a confession: when I started to study blind tasting, Tempranillo was the one red variety that I could rarely spot. Even now I sometimes have to circle round it and eliminate all the others first. Syrah, yes, Cabernet Sauvignon, always, Merlot and Pinot Noir or Nebbiolo, no problem. I can even make a calculated guess at Nerello Mascalese. The problem – for me at least – is that Tempranillo is Spain's most widely planted red, and has many different profiles. Since Spain is a mountainous country, with seas on several sides, significant rivers and a mix of soils, there is exceptional diversity. No wonder the fruit character varies. Fresh cherry? Morello cherry? Cherry jam? Plum? Blackcurrant? Then there's its savoury character: sweet spices, a slightly leathery feel, sometimes leafy. There can be a fine freshness too.
Unfortunately, the defining clue, the evidence for the prosecution, was always oak: American oak, and lots of it. If you could spot coconutty American oak, then you were home and dry. It was safely Spanish, likely Rioja, and therefore had to be Tempranillo – even if it had other varieties in the blend. I say 'unfortunately' because this narrow view of Spain as 'Tempranillo + oak' still sticks, even though the winemaking has changed greatly. Further, this sweeping vision of Spain as dominated, unimaginatively, by Tempranillo is as damaging for the reputation of Spain's wine industry as it is for Tempranillo itself.
'While Tempranillo is Spain's most widespread variety, it is also its most underrated'
In the last decade, Garnacha, Mencía and other lesser regional specialities such as Monastrell, Cariñena, Bobal and Graciano are providing far more interest. Tempranillo just isn't 'cool' anymore. It's not usual to search under 'T' on a wine list. (Searching under 'P' for Pinot is a different matter.) The wine world is searching for novelty, and Tempranillo is not new. My thesis is that while Tempranillo is Spain's most widespread variety, it is also its most underrated. There are still some places where it has outstayed its welcome, but there are many sites where it sings.
In Spain, its synonyms range from Cencibel (Castilla-La Mancha) and Ull de Llebre (Catalonia) to a selection around Tinto Fino/Tinta del País/Tinta Fina/Tinta de Toro across the country's central and northern parts. Of the world's 231,000ha of Tempranillo, 88% is in Spain (OIV, 2017). The variety has travelled the world (see tasting notes, p61), from Portugal (Tinta Roriz, Aragonez) to Italy, to the US (California, Washington, Oregon, Texas), Mexico, Argentina, Australia and New Zealand. In every case except Portugal and perhaps Texas, it's a lesser, alternative variety.
That said, it has a number of sterling qualities. It's adaptable to a range of terroirs, and is equally adaptable – some might say submissive – when it comes to blending and oak ageing. It has firm tannin. As its name suggests, it ripens early – up to two weeks earlier than Garnacha in Rioja, for instance. It's sensitive to wind and drought, which might become an issue in coming years, and susceptible to powdery mildew. The downsides to Tempranillo appear if you rely on it as your sole variety: it can be moderate or low in acidity, and if you let it overcrop, the colour and palate are light. Many growers are seeking out older material to replace modern productive clones and thus restore diversity and concentration to their vines.
Ribera del Duero
For any student of Tempranillo, the place to begin is Ribera del Duero. Rioja may be more famous, but many Riojas are blends, whereas Ribera del Duero is the land of Tinto Fino. Not that it is easy to follow. The diversity of soils and altitudes gives an array of characters, but hitherto this has often been masked by the winemaking. A reliable tutor in this area is Mariano García. As winemaker at Vega Sicilia for 30 years, he proved that Tinto Fino has the capacity to make wines than can last for 50 or more years. There are other grape varieties in his blends, but Tinto Fino is the heart.
As a local, García knows the villages and the old vines. So when he set up Aalto with Javier Zaccagnini, the pair knew where to look to assemble their 200 plots from across Ribera. Now, 20 years on, the wines offer a fascinating interpretation and the firm tannins are softening into maturity: Tempranillo tamed.
The Ribera del Duero DO was only formed in 1982, despite Vega Sicilia's founding in 1864 and Protos in 1927. Understanding the profile of Tinto Fino and how to express it best has taken time. It's fair to say that the experts in Tempranillo from Rioja who have come to make wine in the DO still make better wine at 'home' in Rioja than in Ribera del Duero. For wineries such as Ramón Bilbao, Rioja Alta, Roda and more recently CVNE, for instance, it's a work in progress. It's the same in the other direction: Vega Sicilia's Ribera del Duero-meets-Bordeaux joint venture with Benjamin de Rothschild, Macán, has taken time. Tinto Fino is not Tempranillo in the vineyard, and vice versa.
To understand the variety further, you need to add into the mix a lovely but distinctly different expression of Tinto Fino at the far eastern end of the DO's 'golden mile', in Soria, Spain's least populated province. Here, there's a real sense of a land that time forgot. Formerly of Dominio de Atauta, Frenchman Bertrand Sourdais is now at Antídoto and Dominio de Es, and he produces exceptionally delicate wines in vineyards at 900m-1,100m. The soils range from sand and gravel to limestone, and he sources from several hundred plots across almost a dozen villages. His rosés are some of the very best in Spain. The single-vineyard Le Rosé – 50% Tinto Fino, 50% Albillo (white) – is from 80- to 100-year-old vines at 1,000m, grown on sandy soil on a base of calcareous rock. It is aged in new 600-litre barrels, and his intention with it is 'to compete directly with the world elite of rosés'. He does, successfully. For a cheaper option, Roselito is also very good (a blend of 70% Tinto Fino and 30% Albillo).
Castilla y León
Beyond Ribera del Duero lies the extensive DO of Castilla y León with its many hectares of Tempranillo, managed by any number of independent-minded wineries, which don't happen to fit into the sometimes-arbitrary boundaries. One such winery is Abadía Retuerta. It's a luxury project attached to the region's most lavish hotel, complete with a Michelin-starred restaurant. These are estate wines, with several single-varietal, single-vineyard choices: Syrah, Cabernet Sauvignon and Tempranillo. Angel Anócibar is proud of the Tempranillo too, clearly labelling the variety on the bottle. Tempranillo is 'cool' here, and proud.
The highways hereabouts are filled with winemakers, growers and the occasional wine writer. Valladolid is equidistant from Toro, Rueda and the heart of Ribera del Duero, just 45 minutes' drive. One family on the road is the Garcías: Mariano and his sons run Garmón in Ribera del Duero, Mauro in Castilla y León and Maurodos (also known as San Román) in Toro. It's no surprise that Toro has seen plenty of investment from Ribera del Duero and beyond. The lower land prices were a draw.
'Toro will always be a forthright wine, but investment in viticulture transforms the rusticity'
The phylloxera-free, dry, sandy soils are also a lure: some 60% of the vines are own-rooted, and 80% are bush vines. When Toro DO was founded in 1987, there were four bodegas; today there are 63. Also from Ribera del Duero are Vega Sicilia and Alonso del Yerro. LVMH has Numanthia, which was founded by the Egurens from Rioja, who now have Teso La Monja. Not forgetting Michel Rolland, Telmo Rodríguez, Jorge Ordóñez and Domaines Magrez Espagne. This is Tempranillo high country. Historically it made direct, alcoholic blockbusters, and while Toro will always be a forthright wine, this investment in viticulture is transforming the rusticity.
For Toro's neighbour Rueda, Tempranillo is the preferred red. Understandably perhaps, given its focus on white wines, Rueda's reds are not the highlight. More successful is its other neighbour Cigales. It has just 1,820ha of vineyard, but mainly old bush vines on stony, rocky soils, up to 800m. The heat and drought create concentrated wines. With good management, Tempranillo is transforming itself from the former alcoholic, baked red.
Rioja
The journey to Rioja is a good two-hour drive. I suggest stopping off and meeting some of the people in the wine world doing the same at Landa, a hotel just off the motorway at Burgos. It's a crush in the bar, but a glass of a juicy young Tempranillo with local morcilla, a type of black pudding, and a fried egg breaks up the journey, and you will be sure to meet a friend if you stay long enough.
We are entering the DOCa, where Tempranillo is altogether more complicated for a student, though it never used to be so. First, there was the Rioja tradition of blending Garnacha, Mazuelo and Graciano into the wine. Now 100% Tempranillo is much more common. Second, Rioja wine used to be categorised by its time spent in barrel, with little clue to quality – many producers have abandoned this approach. Third, there was a distinct move towards French oak, away from American. Now the pendulum seems to be swinging back a little, with some producers also making their wines in concrete or amphorae. And fourth, even more variables have entered the mix of official terminology, such as village wines and 'singular vineyards' (Viñedos Singulares). Now more than ever, it pays to get to know your producer.
'What's needed in Spain is to find that perfect fit, rather than the widespread planting approach'
Haro is a particularly interesting town in the region. Here it's possible to find typical Rioja blends, in which 30% of the wine may be Garnacha, Mazuelo or Graciano. It is also the home of Bodegas Roda, whose wines are based on a long-term project identifying 500 different biotypes of Tempranillo.
Carbonic maceration is also a feature in Rioja – typically used in home winemaking and for young wines intended for early drinking, it is a traditional favourite in the Rioja Alavesa sub-region. Some good examples include Abel Mendoza's Jarrarte (2016, £13.99 Noble Grape) or, if you can find it, the juicy Murmurón from Sierra Cantabria.
A final footnote to the Tempranillo story of Rioja is the arrival of Tempranillo Blanco, a mutation that produced a white bunch on a red plant, discovered in 1988 and now growing in popularity.
Site selection
Does this constitute the full list of top locations for Tempranillo in Spain, and of its synonyms? On Rioja's eastern border, Navarra would disagree. But there, as elsewhere, Garnacha is having a rebirth, becoming the 'cool' choice. Navarra chose to focus on international varieties as a point of difference. Today when we seek authenticity, Cabernet Sauvignon and Chardonnay seem out of place. Is Tempranillo too an embarrassment? Simply a reflection of the old ways, so much less distinctive than Garnacha? Winemaker Adriana Ochoa, whose father was a Navarra pioneer of international varieties, doesn't think so. She emphasises that her latest release from a singularly stony vineyard is a perfect fit for Tempranillo.
What's needed in Spain is to find that perfect fit, rather than the widespread planting approach. You can find Tempranillo under its different names up and down the holiday coasts of the Mediterranean. There are pockets in places where a previous generation thought – or was advised – that it was the noble variety: it was necessary to have it, if only because consumers respected it.
Yet the message is clear: Tempranillo is a great variety, but plant it only in the best places. Don't spoil its reputation by producing dilute or baked or flabby wines. Respect it for its excellence.
Evans' pick: 12 top Tempranillos to try
• Dominio de Es, Viñas Viejas de Soria, Ribera del Duero, 2017
• Roda, Cirsion, Rioja, Northern Spain, Spain, 2016
• Legaris, Moradillo de Roa, Ribera del Duero, 2016
• Aalto, Ribera del Duero, Ribera del Duero, 2016
• Abadia Retuerta, Pago Negralada, Castilla y Léon, 2015
• Muga, Selección Especial Reserva, Rioja, 2014
• Fall Creek, Salt Lick Vineyards ExTerra Tempranillo, 2016
• Struggling Vines, Phinca Hapa, Rioja, Northern Spain, 2017
• Ochoa, Alma de Finca El Secadero, Navarra, Spain, 2014
• Quinta do Crasto, Tinta Roriz, Douro Valley, Portugal, 2017
• Majestic, Definition Viña Majestica Reserva, Rioja, 2013
• Zuccardi, Q Tempranillo, Mendoza, Argentina, 2013
Join Decanter Premium to see these scores and tasting notes. 
WSG members enjoy a 20% discount on their Decanter Premium subscription! Get your coupon code HERE
 Sarah Jane Evans MW for Decanter, February 2. 2020 
Want to receive a free Spanish Wine Scholar™ chapter?
Complete the form below to receive your FREE chapter
Tagged Under