WSG Tasting Lab®: Advanced Analytical Tasting with Caroline Hermann MW (recording)
Valentine Touzeau
Latest News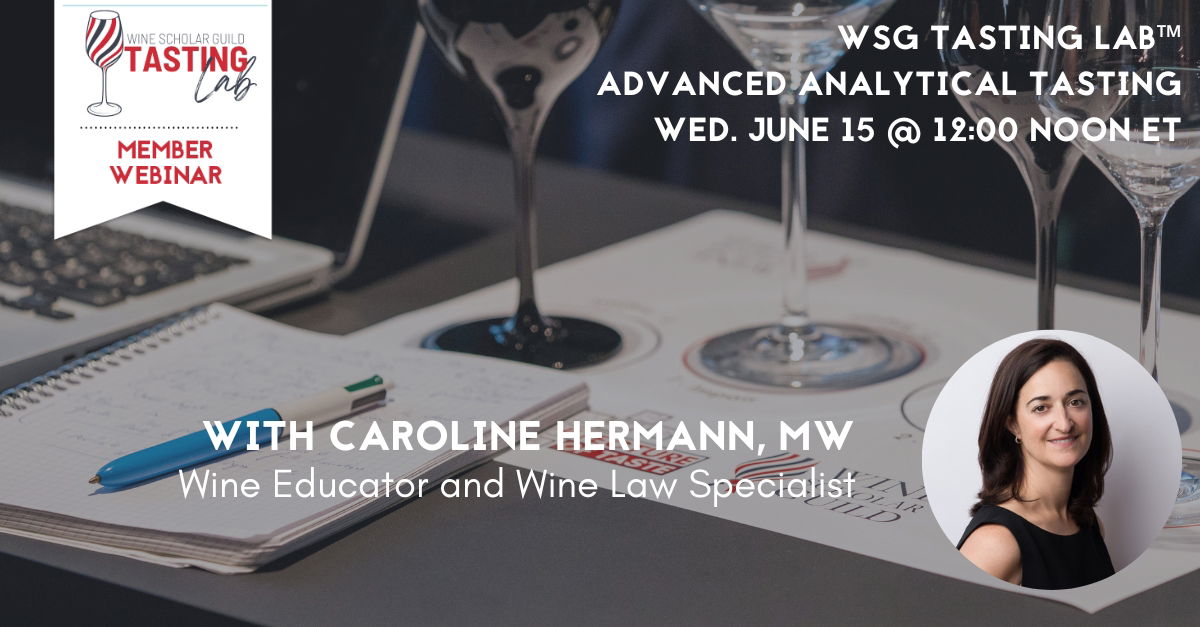 This wine has high acidity, medium alcohol with medium body, and aromas of lemon, lime, and wet stones. Sound familiar? Wine tasting notes can appear strikingly similar on paper, especially when tasting a suite of comparable wines. But, as a taster, how can you differentiate them? Do we learn anything about their terroirs or production methods from this tasting note?
WSG's Tasting Lab® allows you to take your tasting skills to the next level and qualify (and not just quantify) a wine's aromatic expression and structural components. You'll also dive deeper into the wine's texture and mouthfeel, which typically gets overlooked.
Join Caroline Hermann, MW, to explore this new interactive way of tasting that builds on your existing skills and knowledge. Caroline is one of the Masters of Wine with whom WSG collaborated to create the Advanced Analytical Tasting Grid. Caroline will walk us through this simple method during this live webinar. With a few simple clicks on your computer screen or tablet, the Advanced Analytical Tasting tool leads to a deeper understanding of wine quality.
If you'd like to taste along and try the tool in real-time with Caroline, the following two Chablis wines can be pre-purchased in advance. WINES ARE NOT REQUIRED TO JOIN BUT ARE RECOMMENDED!
Wine 1: Chablis Domaine Laroche Saint Pierre 2019
Wine 2: Chablis Patrick Puize Terroir de Courgis 2020
OPTIONS FOR PURCHASING THE WINES
1. Participants in the USA can order these two wines bundled together from Zachys at a discounted WSG price of $45.00 before shipping. Please follow this link to order your wines. The discount will appear once only you've added the wines to your cart.
2. Participants elsewhere in the world are invited to seek out these wines on Wine-Searcher by using the links below and then updating the search with the country in which you are located:
Wine 1: Chablis Domaine Laroche Saint Martin 2019
Wine 2: Chablis Patrick Puize Terroir de Courgis 2020
Make sure you plan and order in advance as limited quantities and delivery may take time.
3. If you can't find these exact wines: you can purchase an entry-level village Chablis (wine 1) and contrast this with a terroir-driven Chablis (from specific lieu-dit or premier cru ideally) from a top winemaker (wine 2).
Lastly, if you do not have the opportunity to source the wines, you can still join in on the webinar and follow along to learn about this exciting new tasting method! 
Presenter: Caroline Hermann MW
Caroline Hermann MW brings a unique perspective to the wine sector with a background in alcohol beverage law, environmental law, sustainability, and international trade. She teaches Wine Scholar Guild and WSET wine and sake courses in Washington DC, focusing on tasting analysis. She was part of the team to devise the Advanced Analytical Tasting grid.