GeoSensorial Tasting: A New Way of Assessing Wines of Terroir?
Julien Camus
Wine Education & Careers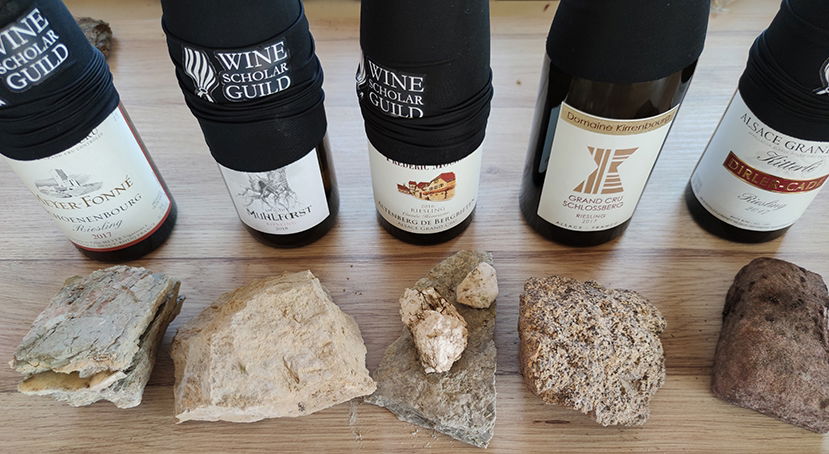 Is a wine horizontal or vertical? Square or round? Hollow or dense? Relaxed or tensed? Grainy or smooth? This is a small sample of GeoSensorial Tasting vocabulary — a method that seeks to empower the taster to feel, interpret and give voice to wines of place.
By focusing on mouthfeel and assessment criteria such as energy, salivation, geometry, texture and consistency, this methodology helps you to better understand the nuances that a specific terroir, among other factors, brings to wine and helps you to express those nuances. It puts light on how, for example, Chenin Blanc wines from the schist soils of Savennières, the tuffeau of Saumur and the flint-clay and limestone-clay of Vouvray differ from one another.  Quite an ambitious undertaking!
THE TIPPING POINT
I always wondered if analytical tasting, which deconstructs wines based on their aromas and structural components (acidity, sugar, alcohol, tannin and body) provides tasters with enough tools and vocabulary to interpret ambitious wines of place. For sure, such a tasting method gives us the "bone structure" of a wine, but what about its "personality?" Two wines can be built in the same way, but have completely different expressions. I had experienced this myself tasting Alsace Rieslings on distinct soil types such as granite, limestone, marl, clay or volcanic elements.
In 2019, I decided to sign up for a new University Degree being offered for the first time by the Geography Department of the University of Strasbourg. This "Diplôme Universitaire" (DU in the French academic jargon) was titled "Toward Terroir Through GeoSensorial Tasting" and was the brain-child of Jean-Michel Deiss.
Jean-Michel is the owner of Domaine Marcel Deiss in the village of Bergheim. Extremely articulate, ever contemplative, Jean-Michel is a true scholar who never shies away from defending his views.
He is a long-time proponent of biodynamics and a fervent and vocal partisan of co-plantation (co-planting different grape varieties in the same plot). In Deiss' point of view, each grape variety brings something different to the wine and leads to a complexity that is more than the sum of its parts. 
But, most importantly, his advocacy for co-plantation has to do with terroir — and business, as in the end, wines are produced to be sold. According to Jean-Michel, Alsace's decades-long focus on the production of varietal wines is a dangerous path — a field in which producers are selling a variety that can be grown, for much less money, in other places of the world. He longs for the days of the Renaissance when the fame of Alsace's wines was at its apogee. Back then, Alsace was not selling Riesling or Gewurztraminer. It was selling Riquewirh, Hunawihr or Ribeauvillé village wines, exactly like Bourgogne is crafting Volnay, Puligny or Gevrey. And of course, back then, the greatest crus already had a strong recognition and were sold separately as such. The idea is simple: many places on earth can produce a Riesling, but nowhere else can one produce a Riquewihr or Turckheim wine, much less a Schlossberg or Rosacker grand cru.
How does this tie back to GeoSensorial Tasting? History and the role of the gourmets.
REVIVING THE WORK OF THE GOURMET
For centuries, wines were transported in barrels. There was no guarantee that the wine ordered was the wine that was received.  Until the French Revolution, the role of assessing a wine and attesting to its quality and origin before shipping belonged to the gourmets.
The gourmets were generally monks, often old and blind. (Back then, most people would be considered old and would have lost significant visual acuity by the age of 40.) These gourmets were working in river ports such as Sélestat and Strasbourg in Alsace, where wines were loaded onto boats to be transported to their final destinations.
Before the wines were loaded, in the darkness of their cellars, the gourmets were tasting each wine and validating that the wine in each barrel was indeed true to its stated origin. Gourmets were equipped with their silver tastevins. There were no modern tasting glasses to assess the wines' clarity and enhance the wines aromatics. Their assessment of authenticity of origin was largely based on mouthfeel and texture.
GeoSensorial tasting invites tasters to dive back in time and put themselves in the shoes of the gourmets, downplaying visual cues and focusing on the shape of the wine in the mouth. Although this method may seem "retro," it is also grounded in current neuroscience discoveries. (Wine Scholar Guild's recent "Neuroscience of Wine Tasting" series with neuroscientist Gabriel Lepousez from the Institut Pasteur in Paris dove deep on this subject).
A FASCINATING YEAR OF EXPLORATION
The one-year course I followed was fascinating. It involved academic instruction on viti-vini and geology as well as on-the-ground field work with geologists, soil scientists, neuroscientists, viticulturists, enologists and biodynamic consultants. There were also intensive days in which we tasted hundreds of wines from a GeoSensorial perspective.
Jean-Michel Deiss conducted the GeoSensorial tutored tastings along with guest presenters such as Bourgogne's Jacky Rigault (instrumental in the revival of the GeoSensorial tasting method in France) and Bordeaux's international terroir consultant, Stéphane Derenoncourt.
Our goal was to link terroir in general and soil type in specific to the mouthfeel of the wine—a pursuit that rose in tandem with the increase of mono-parcel and micro-terroir bottlings. The quest is ambitious, so ambitious that, inevitably, some frustrations did emerge along our journey. I often felt that our learning and experimentation was raising more questions than could be answered.
IN THE TRENCHES TO BUILD A METHOD
I embarked very enthusiastically on this program and thought that we'd be handed organized tools (such as a GeoSensorial Tasting grid) or a formal chart telling us, for example, that limestone wines feel like this on the palate while granite wines feel like that—but the methodology was too new. Instead, the class was encouraged to become a part of the discovery process and forge our own links, associations, tools and benchmarks.
During the many months of Covid lockdown in the spring of 2020, a group of us worked via countless Zoom meetings to build a fledgling GeoSensorial tasting grid in an effort to organize the fascinating information we had been given.
PUTTING GEOSENSORIAL TASTING TO THE TASTE TEST
Neuroscience has taught us that there is nothing more subjective than our aromatic perceptions. Perception thresholds vary immensely from one person to another and each person's culture and personal experiences has a huge impact on the aromas that one can identify.
Is touch therefore less subjective and more universal? Do we all experience mouthfeel the same way?  Is the wine pointed, prickly, chiseled? Is another squared, thick, angular and grainy? Do we all experience them as such?
Jean-Michel thinks so. He argues that no matter who tastes a wine, what is square is not round, and what is thick is not thin, despite our genetic differences and cultural diversity.
Do we all truly have the same tactile perceptions and interpretation of these perceptions?
MORE RESEARCH COMING UP
In order to put theory to the test, our tasting grid has been transformed into a powerful web application allowing us to collectively measure how much tasters converge or diverge among the various assessment criteria when tasting the same wines.
Some of our first blind tasting panels focused on Alsace Rieslings from various soil types and these showed very encouraging results: little dispersion in our wine assessments and relatively strong guesses as to what the soil types might be for each wine.
But experimentation has only just started. We will be conducting many more panel tastings with the following objectives:
Fine-tune tasting criteria and terminology that tend to show more varied assessment results than others. Try to understand why. Is the variation due to a lack of clarity as to what is being assessed or are these assessment criteria/terms more subjective by nature?
Identify tasting criteria/terms that are efficient indicators of terroir and soil type versus those which have more to do with grape variety, winemaking practices or overall quality evaluation
Expand tastings to a much more diverse range of wines: white, red, rosé and sparkling from various origins
Test the GeoSensorial method with both expert tasters (not trained on the method) as well as more novice tasters
Collect enough data via panel tastings to observe if a soil signature can be identified for each major soil type or family of soils; within a region or across the globe
Compare these findings with how producers and area experts describe the same wines
Lots of exciting experimentation remains!
It is my hope that the GeoSensorial tasting method can be successfully codified into a grid which would then, in turn, become a powerful tool to empower students of wine with a new and exciting vocabulary to express the personality of a wine and the place it comes from.
Stay tuned for updates on the progress of this research as well as for opportunities for WSG students and members to play an active role in this fascinating journey!
We welcome your comments and questions. Please login and leave a comment below in order to join the discussion.