Barolo Communes
Tom Hyland
Regional Spotlight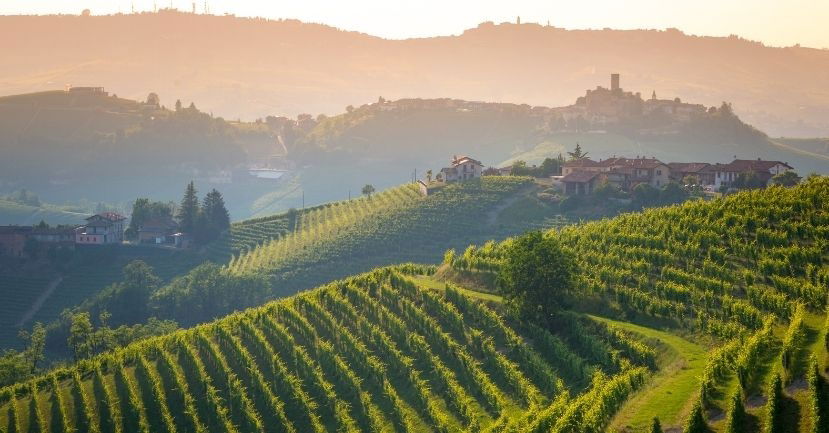 Apart from the Côte d'Or in Burgundy, perhaps no other wine territory has been dissected in greater detail than the Barolo zone. This makes perfect sense, as these are arguably the two most ideal representations of the concept of terroir; just as Pinot Noir from one village in Burgundy reveals different flavors than that of another nearby hamlet, so too offerings of Barolo from various communes often display diverse characteristics, despite the fact that every wine here is made exclusively from Nebbiolo.
There are 11 approved communes in the Barolo production zone. For this article, we will deal primarily with the five largest: La Morra, Serralunga d'Alba, Monforte d'Alba, Castiglione Falletto and Barolo itself. The remaining six are Cherasco, Diano d'Alba (interestingly, planted more to Dolcetto than Nebbiolo), Grinzane Cavour, Roddi, Verduno and Novello; these last two are home to two of the most in-demand vineyards in the entire zone: Monvigliero in Verduno and Ravera in Novello.
Given that any explanation of terroir will deal with soils, the conventional thinking is that a key difference in describing Barolo syles is to identify the soils in the vineyard or vineyards from which the fruit is sourced. The western communes, such La Morra and Verduno, are primarily comprised of younger soils known as Tortonian, while the eastern portion of the zone is largely made up of older soils known as Serravalian (often referred to in the past as Helvetian); this is prevalent in the communes of Serralunga d'Alba and Monforte d'Alba
One can then deduct that a Barolo from Serralunga or Monforte will be a more powerful wine than one from La Morra or Verduno. The reasoning here is that as the roots of the vine have to go deeper in the older soils, as compared to the younger ones, wines from Serralunga and Monforte will offer more robust tannins as compared to a Barolo from La Morra, which will be more approachable in its youth.
While this is a helpful guide, it is a generalization and like most overviews, it can often be misleading. Yes, a classic Serralunga Barolo will display its best characteristics some 15-25 years down the road from the finest vintages, but there are variations according to the vineyards, as a Barolo from Vignarionda or Lazzarito in this commune will generally have greater aging potential than one from Margheria or Cerretta, regardless of the producer.
Likewise, the human factor in the terroir equation accounts for marked differences in the wines. Compare the Barolos from the La Serra vineyard in the commune of La Morra, as crafted by Roberto Voerzio and Marcarini; the former, aged solely in barrique, is quite tannic and deeply concentrated, requiring great patience, while the latter, matured in large casks (grandi botti), offers more gentle tannins with more floral aromatics. Certainly one could argue a more modern approach (Voerzio) as opposed to a more traditional one (Marcarini), but the style of the wines is vastly different – forward from Voerzio, restrained from Marcarini; thus human intervention often defines Barolo as much as soil, vineyard orientation, elevation, and other factors.
While the subject of subsoils is an article in itself – these create subtle variations within several communes - let's look at the most important communes and their best known MGA. This term, meaning Menzione Geografiche Agguntive, refers to a specific delimited area of production; Barolo MGA labeling began with the 2010 vintage. There are 170 officially recognized MGA, along with 11 communal ones (e.g., Barolo del Comune di Serralunga d'Alba, Barolo del Comune di La Morra, etc.), and while most of these MGA refer to a single vineyard such as Cannubi or Brunate, the MGA term cannot technically be defined as a vineyard. Bussia, the second largest MGA at 738 acres, is actually a large hill made up of several vineyards, such as Mondoca, Bofani and Dardi; Poderi Aldo Conterno, one of Barolo's greatest producers makes wines from three separate vineyards situated within Bussia: Colonello, Cicala and Romirasco.
The proper term then for a vineyard on a Barolo label is either vigna or vigneto; two well-known examples are Poderi Oddero Barolo Bussia Vigna Mondoca and Bruno Giacosa Vigna Le Rocche Barolo Falletto. Note that the terms vigna or vigneto do not have to be used as identifiers – Aldo Conterno does not label their separate Barolos with these descriptors.
A brief summary of the most important communes in the Barolo production zone follows:
La Morra
Situated in the north central sector of the zone, La Morra ranks first among all the communes as far as most acreage of Nebbiolo planted for production of Barolo as well as number of wineries (62); it is tied with Serralunga d'Alba for most MGA (39). Several of the highest vineyards in the zone are located here at elevations of more than 1400 feet.
There are three important sub-zones of La Morra, with vineyards near the town itself, along with the frazioni (basically a suburb or hamlet) of Santa Maria and Annunziata, located northeast and southeast, respectively of the town; both hamlets are below La Morra proper.
As noted above, La Morra is known for Barolo with rounder, more gentle tannins and more floral aromatics (especially from the Brunate MGA), as opposed to wines from Serralunga and Monforte. The wines from the Rocche dell'Annunziata site are among the most complex, elegant and structured in all the commune.
Top vineyards: Rocche dell'Annunziata, La Serra, Arborina, Conca, Brunate and Cerequio (these last two are primarily situated in La Morra, with a smaller part of these sites also in the commune of Barolo).
Top Producers: Renato Ratti, Roberto Voerzio, Poderi Oddero, Elio Altare, Fratelli Revello, Marcarini, Mauro Molino, Mauro Veglio, Trediberri, Aurelio Settimo

Barolo
This commune that lends its name to the wine is situated towards the southern part of the zone; it is one of only three communes that is entirely located with the Barolo zone, with the other two being Castiglione Falletto and Serralunga d'Alba. The wines here are a mix of styles, with a typical Barolo from here being rich in tannins with a slight austerity. The most famous vineyard here is Cannubi, which contains both Tortonian and Serravalian soils, creating wines of great complexity.
Top vineyards: Cannubi, Sarmassa, Bricco delle Viole, Terlo, Liste, Castellero
Top Producers: Bartolo Mascarello, Marchesi di Barolo, Scarzello, Borgogno, Damilano, Giuseppe Rinaldi, Francesco Rinaldi, Giacamo Brezza, Luciano Sandrone

Monforte d'Alba
Situated at the far southeastern reaches of the zone, Monforte d'Alba is home to long-aging, powerful examples of Barolo. There are only 11 MGA, but 53 wineries here; one reason for this is the large number of producers that make a Bussia Barolo. The wines here are generally quite ripe, and while there are numerous producers that take a modern approach in the cellar (e.g. Domenico Clerico), there are some such as Elio Grasso that specialize in more traditional examples of Barolo, with their Ginestra Casa Maté and Gavarini Chiniera Barolos.
Top vineyards: Ginestra, Bussia, Mosconi, Castelletto, Le Coste di Monforte
Top producers: Elio Grasso, Domenico Clerico, Poderi Aldo Conterno, Giovanni Manzone, Josetta Saffirio, Giacomo Conterno, Giacomo Fenocchio, Amalia Cascina in Langa

Serralunga d'Alba
Situated north of Monforte d'Alba, Serralunga d'Alba marks the eastern border of the Barolo zone. If a classic syle of Barolo combines deep structure and longevity, then the Barolos of Serralunga are certainly among the most classic; these wines require time, but offers great rewards at their peak. Yet, you can find very approachable examples of Barolo from here; the offerings of Barolo Comune di Serralunga d'Alba are often quite open upon release, displaying the rich fruit and tannins of Serralunga in a more refined manner; these are among the best values of the entire Barolo zone.
As much as any commune, Serralunga is known for its remarkable assortment of vineyards, including Lazzarito, Vignarionda, Falletto of Bruno Giacosa, and Francia, the source of the celebrated Monfortino Barolo of Giacomo Conterno.
Top Vineyards: Falletto, Francia, Lazzarito, Vignarionda, Margheria, Cerretta, Prapò, Parafada
Top Producers: Fontanafredda, Ettore Germano, Paolo Manzone, Giovanni Rosso, Schiavenza, Palladino, Luigi Pira

Castiglione Falletto
The commune of Castiglione Falletto is located the west of Serralunga d'Alba, north of Monforte d'Alba and east of La Morra. The soils here are mixed with a good percentage of sand, resulting in wines that are often more fragrant and less tannic than those from Serralunga and Monforte; a typical Castiglione Falletto Barolo displays red cherry and starwberry fruit aromas and flavors along with distinct red spice notes. Rocche di Castiglione is arguably the best known site here, along with Villero (the source of Vietti riserva), Bricco Rocche of Ceretto, and Monprivato, this last made famous by Giuseppe Mascarello.
Top Vineyards: Rocche di Castiglione, Bricco Rocche, Villero, Bricco Boschis, Parussi, Fiasco, Pernanno, Monprivato, Montanello
Top Producers: Vietti, Paolo Scavino, Cavallotto, Monchiero Fratelli, Giovanni Sordo, Livia Fontana, Roagna – I Paglieri

Verduno
Verduno represents the far northwest reaches of the Barolo zone, and is known for wines that combine excellent ripeness with subtle spice, generally with mid-weight tannins. Clearly Verduno is most famous for the Monvigliero vineyard, situated just east of the town of Verduno, ranging from 720-1015 feet above sea level. While most of this commune's producers make a Monvigliero Barolo, recently many vintners throughout the Barolo zone have also added a Barolo from this vineyard; this includes Paolo Scavino, Giovanni Sordo and Terre del Barolo (for their Arnaldo Rivera line of Barolo).
Top Vineyards: Monvigliero, San Lorenzo di Verduno, Boscatto, Massara
Top Producers: Burlotto, Fratelli Alessandria, Bel Colle, Castello di Verduno

Novello
The commune of Novello is located at the far southwestern corner of the Barolo zone, and has one of the coolest climates of any commune, thanks to the winds from the Cottian Alps to the south. The wines of Novello were among the most unrelenting years ago, but because of climate change, a typical Barolo from Novello is now riper and much more elegant. Clearly the interest in this commune over the past decade can be traced to the work of Valter Fissore and his wife Nadia, at their Elvio Cogno estate, with wines from the Ravera vineyard; recently several renowned producers such as Vietti and Paolo Scavino have also released a Ravera Barolo.
Top Vineyards: Ravera, Sottocastello di Novello, Cerviano-Merli, Panerole, Corini-Palaretta
Top Producers: Elvio Cogno, Ca'Viola, Le Strette, Marenco
Want to receive a free Italian Wine Scholar™ sample chapter?
Complete the form below for more information and receive a FREE sample chapter.
Tagged Under