Jura's food and drink specialities
Wink Lorch
Tasting & Trends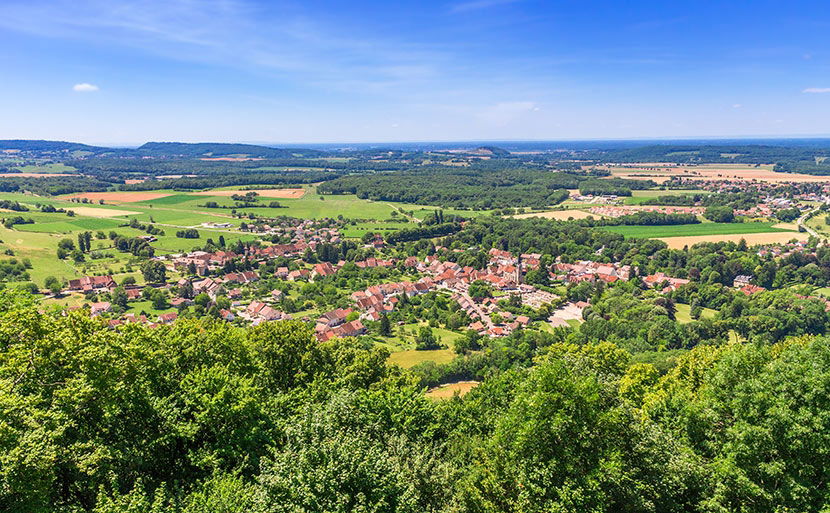 As everywhere, it is the nature of the geography that most influences the food and drink traditions of the Jura and Franche-Comté. The diverse landscape of mountains, dense forests, high meadows, vineyards, lakes and the river plain have all shaped what the local population ate and drank. Franche-Comté's gastronomy has much in common with that of Switzerland's western cantons, but there are subtle differences. 
Most of the rural population in the mountains and on the plain lived from their dairy cows and pigs, so the principal specialities are the wonderfully rich cows' milk cheeses from unpasteurized milk and tasty pork sausages and charcuterie. The sausages and meats are smoked by hanging in a tuyé, a very large pyramidal chimney over the fire, burning wood from conifers.
To these foods can be added lake and river fish and poultry, especially the long-famous Poulet de Bresse. The woodlands provide ample opportunities for finding wild mushrooms and are full of game birds and animals. Vegetables, especially green vegetables, while widely available today, rarely feature on menus as specialities in Franche-Comté – the food tends to be rich in protein and fat, essential to keep hard-working farmers and country folk energized and warm.
Whereas in the south, especially in the Jura, the vine was always prevalent, in the northeast of Franche-Comté towards the border with Lorraine orchards are found, particularly cherry trees. As in nearby Switzerland and Alsace, liqueurs and marcs have long been made from various fruits and mountain herbs also flavour spirits. Local beers are making a comeback.
Franche-Comté's best-known AOP (protected appellation of origin) cheeses are all cows' milk cheeses and over 95% of the milk comes from the distinctive brown and white Montbéliarde breed, although the French Simmental breed is also allowed. Each cow must have at least 1ha of pasture for grazing. Farms are still relatively small, rarely with more than 60 cows. A particularity of the region is the prevalence of fruitières, the cooperative cheese-making facilities with origins in the 13th century, when farmers found it easier to group together to make large cheeses. Affineurs or caves d'affinage (ageing cellars) appeared in the area in the late 19th century.
Beginning with Comté, the region's most famous cheese, this chapter summarizes the most important foods and alcoholic drinks, aside from wine, that are prized in the Jura and Franche-Comté.
This is an excerpt from the book, 'Jura Wine' by Wink Lorch, available for purchase online and worldwide delivery from www.winetravelmedia.com.
Access Your Free French Wine Scholar™ Chapter Now!