Is Sherry at Risk?
Jacopo Mazzeo
Wine Education & Careers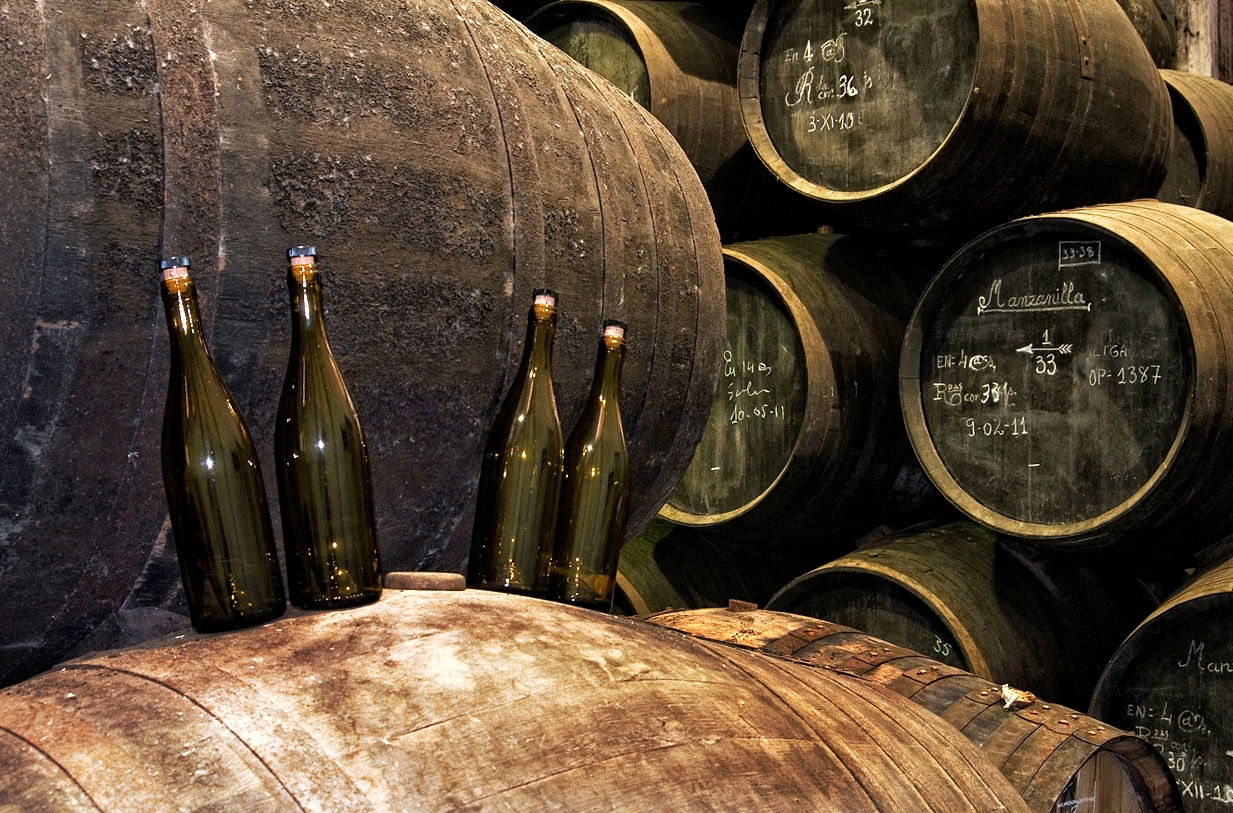 Sherry producers like to say they deal with two types of terroir.
"First," says Fermin Hidalgo, owner of leading Sanlúcar de Barrameda-based Bodegas Hidalgo La Gitana, "the 'classic' terroir we all know: climate, soil, etc. The second terroir is the one related to the wineries… Biological ageing is part of our terroir."
Biologically aged Sherrys such as Finos and Manzanillas involve the formation of a veil of yeast, or "flor", on top of the barrel during maturation. It's this flor that is responsible for the development of unique flavours and textures. The region's traditional bodegas – often referred to as catedrales (cathedrals) for their atmospheric, cathedral-like indoor appearance – generally provide the necessary environmental conditions for the flor to develop and thrive with no need for modern cooling systems.
The catedrales' design and physical location impact on flor's activity, and ultimately on the wine's final profile: "There are significant differences in temperature and humidity among wineries," says Hidalgo. "Those differences affect biological ageing. If I age an already fortified still wine in a not very well built winery that is not very well located, the Manzanilla I will produce will be different to the one we age at our wineries. The closer to the sea the wineries are, the finer the Manzanilla they will produce. [And vice versa]."
Sergio Martínez from The House of Lustau, for instance, maintains a barrel-room temperature of about 20°C-22ºC, and a humidity between 60%-70%. Lustau Portfolio Manager, Mario Munoz, explains that bodegas must ensure that such levels are maintained as stable as possible at all times, avoiding significant fluctuations between day and night, seasons, or wet and dry days. "It is key to maintain a consistency in either temperature or humidity and this balance is achieved by using the cellar itself as our only technology," he says. "There is no high-tech artificial ventilation or temperature control. Windows and doors are still opened and closed by the team. The soil is watered by hand. We only have an irrigation system in one of our cellars to ensure uniformity. However, this is still activated manually."
Yet, a recently published study by a research team from the Universidad Politécnica de Madrid (UPM), claims that warming temperatures are about to jeopardise this delicate balance between bodega and flor yeast. According to the paper, temperatures in the region will rise by an average of 2.3°C by 2050, and up to an astonishing 4°C in the summer of hot years.
UPM's César Porras Amores was involved in the study as part of his research in the field of building energy efficiency and indoor air quality. He claims that some facilities would struggle to absorb such a shift, eventually failing to provide the necessary conditions for the production of biologically aged Sherries, potentially threatening their very survival. "We know that climate change is a reality and the temperature in the world is increasing, and for that reason we have simulated the indoor conditions in a futuristic scenario to understand how the winery will behave in that scenario," he says. "We are not saying that [biologically aged] Sherry is going to disappear. We just want the wine sector to know that if we don't implement an action plan in the winery, in the future, we won't have Sherries as we know them today. The organoleptic properties will change because the climate will change."
Fermin Hidalgo in the vineyards from Bodegas Hidalgo 
An adaptable, yet sensitive being
"The yeast has some adaptability, that is the reason why wines aged in Sanlúcar, El Puerto, and Jerez differ from each other," says Munoz. "Flor is alive and as many microorganisms it adapts to survive, providing different notes and sensations. We shouldn't think of the flor as something static, unalterable, and rigid. Flor's presence, its thickness and activity will be determined by multiple factors that are generally controllable, such as racking, air flow, humidity, temperature, etc."
In line with the research's findings however, Munoz points out that "a radical temperature increase" and drop of humidity levels could lead to the disappearance of this yeast. "In an extremely warm scenario, the flor will probably struggle to survive on the surface of the wines. This would lead the wine to be in contact with the air (oxygen), eventually becoming an Amontillado."
Hidalgo confirms that the flor yeast required to ferment and mature his Manzanilla wines is particularly sensitive to heat. "Climate change will affect biological ageing in many wineries," he says, arguing that some wineries will fare better than others as temperatures increase. "All of our wineries are built in the best possible way… one is the tallest cathedral-style winery in the Sherry area at 14.5 metres high." Alongside height, Hidalgo mentions that proximity to the sea as a further mitigating element. "Our wineries are located in the lower part of Sanlúcar, less than 500 metres from the sea. Therefore, so far, we have not needed to [change anything in the cellar]." He admits, however, that some bodegas, particularly those with lower ceilings, surrounded by buildings, or far from bodies of water will indeed suffer the effects of the warming climate.
Bodegas Hidalgo in Sanlucar
Looking for solutions
Traditional cathedral wineries are understood as ideal examples of nearly zero-emission buildings (NZEB), thanks to their ability to provide the necessary levels of humidity and temperature for the flor to do its job without the need for energy intensive cooling systems. "Sherry bodegas offer a range of features that can be adapted or adjusted to different climatic conditions, allowing us to tackle rising indoor temperatures for at least a few more years," says Munoz. "A more intense watering of the cellar flor, a proactive control of windows, doors, increasing the amount of pergolas and bougainvillaea trees to shade the walls from the sun in spring and summer are ways to face this serious global problem."
While effective in the current climate however, some of the efficiency of these precautions might drop if conditions worsen. "[Soil] watering systems will not reduce 100% the increase in temperatures," says Hidalgo. According to Porras, some producers might respond by implementing artificial humidity and temperature control systems, which would alter the sustainable nature of Sherry cathedrals as NZEB building. "Jerez's cathedral warehouses were built over 100 years ago and since then they've worked perfectly," he says, "but if the climate change estimates presented in our research are confirmed in the future, [wine] companies will have difficulties retaining the comfort temperature inside the warehouse."
To tackle the challenge, the team of researchers at UPM is now working on the development of a new NZEB building specifically designed to absorb the forecasted temperature rise by employing new "intelligent" construction materials, as well as esparto blinds – which stimulate ventilation while minimising sun radiation – and innovative heating, ventilation, and air conditioning systems. "We would like to have results as soon as possible as the wine sector is asking for them," he continues. "We want to take it easy, but I think in probably one year, or something like that, from now we will provide the wine industry with new solutions in terms of construction materials that can help build cathedral warehouses suitable for the future climate."
Bodegas Bardillo
Get your FREE CSWS chapter now!